Motorized Window Shades Combine Convenience and Class
Technological advances have made many of the menial everyday tasks in our lives much easier and more efficient as well. This is no exception when it comes to shades for the windows in your home. Motorized window shades have made shade adjustments as easy as a flip of a switch.
These shades are not only great for adding a level of convenience, but also a level of elegance, to your home. There are several different options available to meet your specific color and design needs to enhance the décor in your home even more.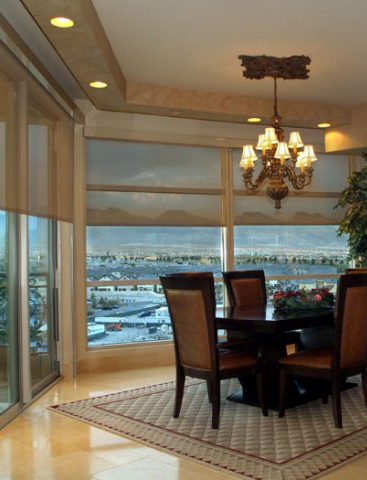 The Convenience
If you have been looking for a more practical and centralized way to control the shades in your home, motorized window shades are a great option. These shades give you the opportunity to control and finely tune the levels of natural light entering any room. For added convenience, these motorized shades also give you the ability to set up your system to operate multiple shades at once or individual shades separately.
Motorized roller shades allow you to adjust your shades with a single push of a button or turn of a knob. It's easy, reliable and perfect for people who live in homes with large windows that receive a lot of sun in the mornings and afternoons. They are also great for windows in hard to reach areas that may be contributing to solar heat gain in your home.
The Options
One of the best features of motorized window shades is their ability to seamlessly blend into any room. The motors are completely hidden from view and the shades adjust easily and quietly. There are several different design and color options available, making it easy to find an option to fit into your home.
No matter what type of motorized window shades you are looking for, the endless customization options ensure you will find the best choice for you.
If you are interested in learning more about the different motorized window shades available, call Polar Shades at 877-260-6110 today.