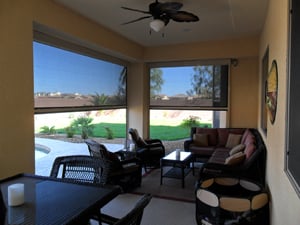 Years ago, screen doors were a necessity if you wanted to open the front or back door and let the breeze in while keeping out the bugs. Cross-ventilation was especially welcome during the summer months. Traditional screen doors have often been seen as almost unsightly. All Seasons Retractable screen are a great alternative to screen doors for those with aesthetics in mind.
Homeowners and owners of commercial properties have found versatile retractable screens are cost-effective, attractive solutions allowing for greater circulation while keeping out unwanted pests and dirt.
This left property owners who wanted to take advantage of natural ventilation to turn to chunky metal doors or unsightly sliding screen doors. Retractable screens are a great answer to these traditional solutions, leading to their increased popularity in recent years.
Customize Retractable Screens For Your Home
At roughly the same price of conventional screen doors, retractable screens have led to a change in natural ventilation solutions.
Most doors require a certain amount of space to swing open. Retractable screens, on the other hand, tuck neatly into the doorjamb when open. Even when closed, screen frames can easily be color-coordinated with the jamb to be practically invisible. This allows homeowners to match their screens with the décor of their home.
Retractable screens also allow for plenty of light and unobstructed views to the outside, when open or closed. In a mild climate, property owners are able to make the most of their screens by using them almost year-round. The climate and great opportunities for natural ventilation is an added benefit to the pleasing aesthetics of these screens.
Retractable screen are also great for doors with non-traditional shapes or sizes. Most dealers can customize retractable screen to fit nearly any opening. Consumers may choose from single-door or double-door retractable types. The double-door versions are perfect for wider spaces, such as French doors.
Another great option for retractable screens is to use them on a patio, porch or deck. In most cases, the screens can be built to enclose the space. This allows you the freedom to enjoy the beautiful weather even more with outdoor dining and entertainment possibilities.
These are a great option for a wide range of homeowners or commercial property owners looking for an aesthetically pleasing solution to traditional screen doors. If you are interested in learning more about retractable screens for your home or property, call All Seasons at (888) 424-0777 today.