A Motorized Drapery Track – no longer a Luxury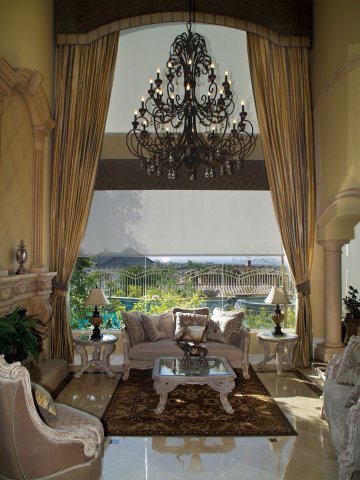 There was a time when motorized drapery tracks were seen only in expensive luxury hotels and other commercial settings. With advancements in technology and manufacturing, this is no longer the case.
Today, homeowners are discovering the joys of automated draperies, blinds or shades that operate with the touch of a button, or can even be programmed to open and shut at certain times throughout the day.
The use of window coverings to protect homes from the sun's exposure has long been known as an effective way to reduce energy costs. The ability to effortlessly control those coverings with a motorized drapery track, such as those made by Somfy, has rapidly become much more accessible for homeowners.
These tracks have become a necessity for homeowners living in warmer climates who are struggling to manage the strong and damaging sunrays.
The Benefits of Motorized Drapery Tracks
To understand why motorized drapery tracks are growing in popularity, it is important to consider the benefits:
Window coverings can be operated easily by wall switch or remote control. This is especially convenient for large or tall windows. Glydea even offers Touch Motion-- a light pull moves the entire drapery. No more tugging on hard-to-reach strings or cords.
Eliminating strings and cords also removes the danger of children or pets entangling themselves.
Coupled with a sun sensor, drapes can be programmed to open or close in accordance with the sun's intensity. This saves on cooling bills, offsetting the initial cost of purchase and installation.
One automation system can handle all the window coverings inside your home and outside screens on patios and porches.
If you are interested in learning more about the benefits of a motorized drapery track in your home, call the experts at Polar Shades at (702) 260-6110 today.