Polar Shades has become the go-to authority for all things covering windows and doorways, whether it is awnings, shades or retractable screens. French door shades have become a standard for new homes with these ornate doors. Filtering harsh sunlight saves on the fading and other deterioration of carpets and furnishings, plus makes your temperature control less expensive to maintain.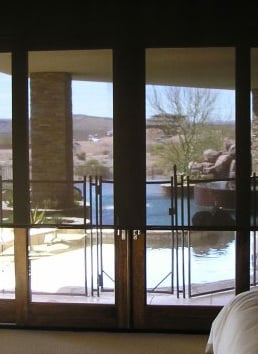 Effective Management of Sunlight
Installing interior control shades on your French doors expands the beauty and function of the doors for the entire room. It provides a more comfortable environment by eliminating solar heat gain and glare and maintaining your cherished view. Sun Control fabrics filter and minimize damaging UV that cause furnishings, flooring and even valuable paintings and portraits to fade. They can also effectively reduce energy consumption and lower your energy costs.
With the use of interior shades or retractable screen doors, you are able to enjoy both natural light and a natural airflow without obscuring you beautiful French doors. Retractable screen doors stay out of view when not in use allowing you to maintain the aesthetic style of your home. With innovative dual sided shades, you get the best of both worlds. The lighter fabric, facing outside, reflects the suns rays, while the darker, inside facing fabric allows you to reduce glare in your home and maintain a view of the outside.
Whether you have French doors, floor to ceiling windows or windows that are difficult to reach, interior shades or retractable screen doors are a great choice for your home. If you have been hesitant to install screens on your French doors because of aesthetic reasons, now you can have the best of both worlds.
Polar Shades has been a respected family-owned and operated business in this industry since 1995. Our expert staff can answer any of your questions about our French door shades. Optimize your luxurious view without letting damaging sunrays fade and deteriorate your furnishings and carpeting. Call us today at 877-260-6110 or 702-260-6110.