Want Efficient Lighting Without Excessive Glare? Consider Fabric Roller Shades
Whether it's the glare from the living room windows shining on the screen, or your current shades let in light to the wrong places, you have likely suffered from the inadequacy of the typical shades found in homes. For the homeowner looking to get rid of difficult and flimsy stock blinds, consider switching to fabric roller shades.
The standard versions of these shades are similar in operation to your classic variety, but the quality and reliability is unmatched. A custom fit makes sure to effectively filter out even the smallest rays of light. Even the pulley system has been touched up to perfection with both assisted manual and powered operation that won't bunch or snag. The shades and equipment come in myriad colors to fit any home, style or décor.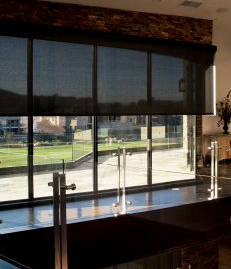 Solar, Filtered, and Blackout Fabric Roller Shade Varieties
The versatility of the fabric roller shades is enhanced by the selection of fabrics available for each system. You can choose from a solar option designed to reduce heat and glare while preserving your outside view, a light filtering model that only allows diffused light to pass through for enhanced privacy, or a blackout curtain that blocks all light for when you want indoor lighting. Each type of fabric can be made to fit any size retractable shade.
One Style Not Enough? Tired of Changing the Shades Yourself? Double Up!
The Polar Shades Select Duo Shade line lets you choose a pair of our fantastic fabrics, expanding your range of light levels. If it's a beautiful and bright day, a solar filter shade might be what you need. If you decide to change things up and go dark for movie watching, all you have to do is remotely activate the Duo Shade and swap to the blackout curtain!
The Duo Shade is motorized and wireless, allowing you to easily switch the fabric with minimal effort. Any of the Polar Shade roller fabric shades can help reduce your electricity bills by reducing solar heat gain with high-quality, energy efficient fabric.
If you are interested in learning more about fabric roller shades and what option is right for you, find an authorized dealer or call Polar Shades at 877-260-6110 today.