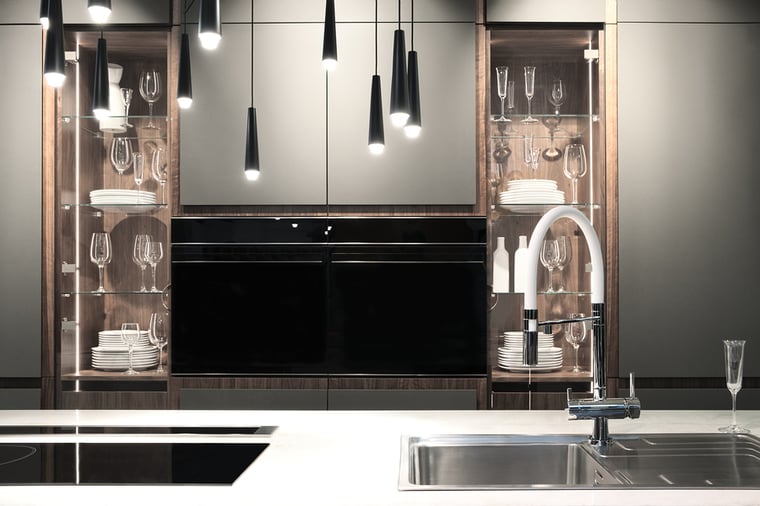 The kitchen is a bustling hub of activity for many families, serving as a gathering spot for meals, food preparations, homework sessions, and great conversation with friends and family members. If your kitchen is in need of an update, consider incorporating a few trendy features to give your space a new look. Check out a few of the emerging trends in kitchen design that you can use in your own home.
1. A Mix of Furniture and Decor
The current trend is to use complementary pieces in a mix of various hues, fabrics, textures, and styles. For example, instead of buying a kitchen table with matching chairs, you might buy chairs in different, but coordinating, colors. The style and color of your chairs might be completely different from that of your other kitchen furniture. One hot option is to use fabric-covered chairs with a wooden dining table to provide uniformity, while retaining the individuality of each piece.
Your interior window shades are another detail that can add interesting depth to your kitchen. Instead of selecting shades in a hue or texture that matches that of other items in your kitchen, opt for shades that bring a new style into the room. If the rest of your kitchen consists of light-colored, airy fabrics, you could select shades with a dark color to add dynamics and a touch of dramatic elegance to the room. Polar Shades's products come in a wide selection of colors, fabrics, patterns, and styles to beautifully contrast your kitchen color scheme.
2. An Update on Traditional Subway Tile
Subway tile is still a popular choice for kitchen backsplashes, but instead of using conventional subway tile and traditional patterns, homeowners are finding new ways to incorporate it into their kitchens. Some homeowners are opting for tiles shaped like rectangles, while others are going with marble tiles that add a glossy appearance to their backsplashes.
3. An Extra-large Kitchen Island
A kitchen island has always been a popular kitchen detail, but the current trend is to install an extra-large kitchen island. This gives ample space for serving and preparing food. In some homes, a massive kitchen island is even taking the place of the dining table. Just outfit the island with comfortable bar stools and you have an excellent spot to dine, relax with a drink or just enjoy your family's company.
4. Open Display Units for Dishes
Instead of hiding your dishes behind cabinet doors, integrate open display units for some or all of your family's dishes. Open storage makes it possible for your dishes to double as kitchen decor. Some of the open display units that you can integrate into your kitchen include cabinets, shelves, wire dish holders, and china cabinets.
For more kitchen design ideas, check out these blog posts: