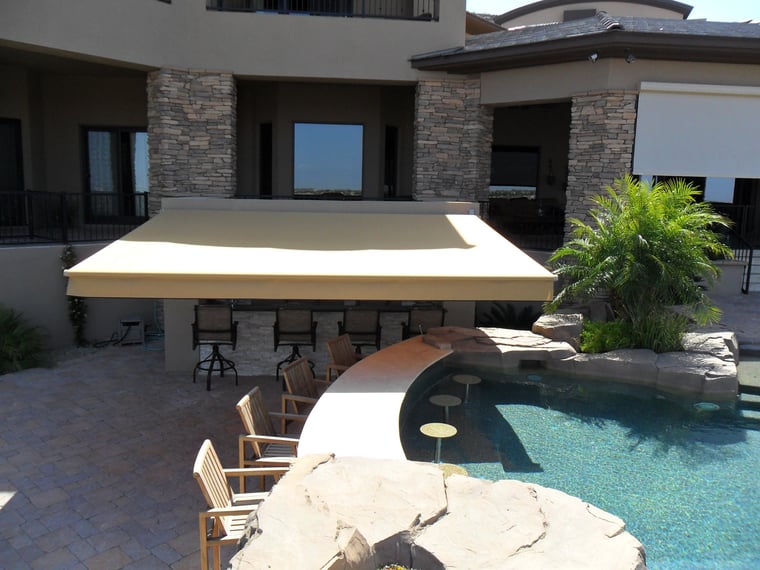 The materials you choose for your countertops will dictate not only the look of your kitchen but how long your countertops will last. When choosing outdoor countertops, pay attention to the durability of the material. You should also consider other factors, such as price, the overall style of your home and ease of maintenance.
Popular Outdoor Kitchen Countertop Materials
Granite
Granite's impressive properties make it one of the best choices for your outdoor kitchen countertops. It is highly heat-resistant and won't be damaged by UV rays or heavy kitchen appliances. It also blends well with the outdoors and is versatile enough for any type of kitchen, no matter the design.
Granite countertops are available in a variety of colors, from dark hues to streaked whites, although light colors are ideal for the outdoors as they absorb less heat. This material is durable and easy to maintain.
Concrete
Concrete can be molded into any shape and can be colored or stained to achieve your desired look. Concrete countertops are a popular choice for outdoor kitchens and can last for many years with proper maintenance. If you are considering this material for your outdoor countertops, make sure you wax and seal it regularly to keep it in good condition. Since concrete is prone to cracks, proper maintenance is key.
Tiles
Tile countertops are a great option if you are keen on cutting costs. Tiles work well in warm areas, since too much cold makes the grout crack. You can find a variety of colors, sizes and styles to match the needs of your outdoor kitchen. What's more, you can easily replace tile countertops in the event of damage.
The downside of tiles is that grout can crack, erode, fade, or stain easier than concrete or granite. Choose darker hues for grout to avoid unsightly stains and opt for porcelain instead of ceramic tiles.
Protect Your Outdoor Furniture with Exterior Shades
Outdoor kitchens are exposed to the elements, which makes them susceptible to damage from wind, rain or sun. You can prevent this by installing exterior shades or retractable awnings in your outdoor living space.
Our shades and awnings protect your countertops and furniture, keep the space cool and comfortable and boost your home's appeal. They also save you the pain of having to repair or purchase new furniture due to weather damage. Another great thing about retractable awnings and exterior shades is that they can be mounted on almost any opening and they are easy to use. Motorized exterior shades offer one-touch operation, or, you can set them on a timer for hands-free control.
If you are looking for exterior shades and retractable awnings to keep your outdoors comfortable and protected, Polar Shades has you covered. Contact us today at 702-260-6110 to schedule a free, in-home consultation.