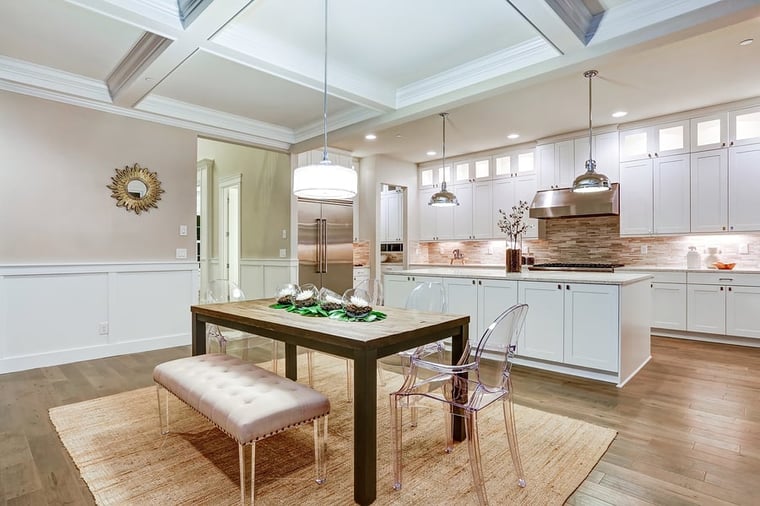 It's hard not to love the Craftsman style kitchen. Its intricate cabinetry, nature-inspired color palette and artisan details give the room a warm, comfortable vibe that family and friends are instinctively drawn to.
The Craftsman Kitchen
A fun fact about the Craftsman kitchen is that it's more of a modern concept, rather than based on historical Craftsman houses. Here are some of the main features you can incorporate in your own kitchen design:
Classic Cabinets
Often defined by straight lines, minimal ornamentation and quality construction, Craftsman-style kitchen cabinets embody distinctiveness and artistry. Rich cabinet tones include cherry, maple and oak, and hardware like knobs and handles are typically made of such metals as copper, bronze and brass in polished, patinated, oil-rubbed, or hammered finishes. Built-in bookshelves and wine storage are popular design elements.
Earthy Color Choices
Neutral tones beautifully complement darker cabinetry and flooring, such as greys, pale blues, creams, muted greens, and soft browns. What matters most is that the color scheme does not take center stage; instead, it provides the backdrop to showcase architectural details.
Natural Lighting
You won't find recessed or track lighting in a Craftsman kitchen. Pendant lighting and flush-mounted fixtures, along with an abundance of natural light, provide a warm and traditional, yet functional, look. Strong geometric lines are common, and lamps often feature tinted glass inserts that cast a soft glow.
Windows are a key element of the Craftsman kitchen design, with numerous casement, double-hung and awning windows for letting in lots of sunlight. To ensure optimum lighting at any time of day while preserving privacy and protecting furnishings from UV rays, interior window shades are a stylish solution that also offers energy savings by minimizing solar heat gain. Interior shades from Polar Shades are made from a variety of fabrics and are designed to filter and block direct sunlight into your home, providing an environment that is as beautiful as it is comfortable.
Motorized window shades allow for one-touch or voice operation. These shades can be custom manufactured to fit nearly any size window opening, making them an ideal choice for a Craftsman kitchen.
You can learn more about what to know when selecting window shades for your home by downloading our free guide today, visiting our showroom or contacting us at 702-260-6110 to schedule a free, in-home consultation.