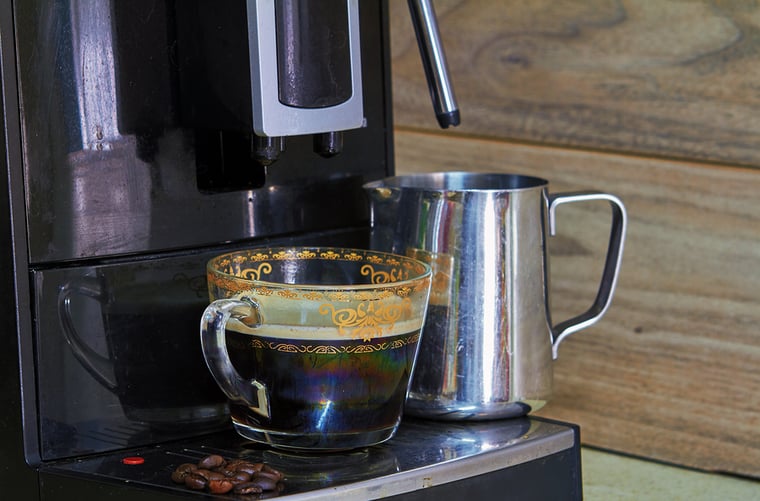 If you like to start your mornings off with a steaming cup of coffee or love to relax in the evenings with a delicious tumbler of iced coffee, a home coffee station is a must-have addition for your abode. Check out a few tips and tricks to help you create a picturesque area perfect for making an amazing cup of joe.
1. Repurpose Pieces to Create Your Coffee Station
Utilize an empty area of counter space or devote a buffet to your coffee-making endeavors. If you want a unique look or need to create your station on a budget, try repurposing a piece of furniture to make your coffee station. An old shelving unit is an excellent option to house all your coffee essentials, like your cups, ingredients, and coffee pot. Or, you can use old, painted crates to make your station. Then, hang them on the wall in your preferred arrangement. You might house your coffee pot on your counter and hang the crates above the pot so everything is in one convenient spot.
Perhaps you have old artwork or signage that will make a great addition to your nook. To add functionality to these pieces, install hooks so that you can hang and display some of your essentials and free up counter space.
2. Incorporate Your Surrounding Decor
When imagining your dream coffee nook, make sure to examine your existing decor. After devoting your time and resources to set up a fantastic coffee station, you want to ensure your decor complements rather than detracts from your new set-up.
One way to improve the aesthetics of your coffee station is to replace your old blinds or curtains with new interior window shades from Polar Shades. We have a large variety of fabrics in different colors and textures so your new shades look fantastic next to your coffee nook. You can even opt for motorized shades that make it easy to lend privacy to your kitchen with the push of a button.
Other easy decor swaps include replacing your kitchen towels and rugs with new pieces that give your kitchen an updated look. Try to stow non-essential items (like mail, rarely used appliances, and kitchen ingredients) out of sight so they don't detract from the appearance of your kitchen and coffee station.
3. Keep Your Display Interesting with Seasonal Pieces
While many coffee enthusiasts stick with their favorite coffee recipe year-round, others seasonally adjust their beverages. Consider swapping some of your conventional pieces for seasonal alternatives throughout the year.
For example, you might display a few beloved coffee mugs in your coffee nook during the months when you prefer hot beverages. During the warmer months, when a cup of cold brew or iced coffee hits the spot, break out some of your favorite insulated tumblers to put on display. Adjust your topping selection so you have all the essentials to make your preferred seasonal beverage.
To learn more about our interior shade options, contact us today at 877-260-6110 and schedule an in-home consultation with one of our expert technicians.