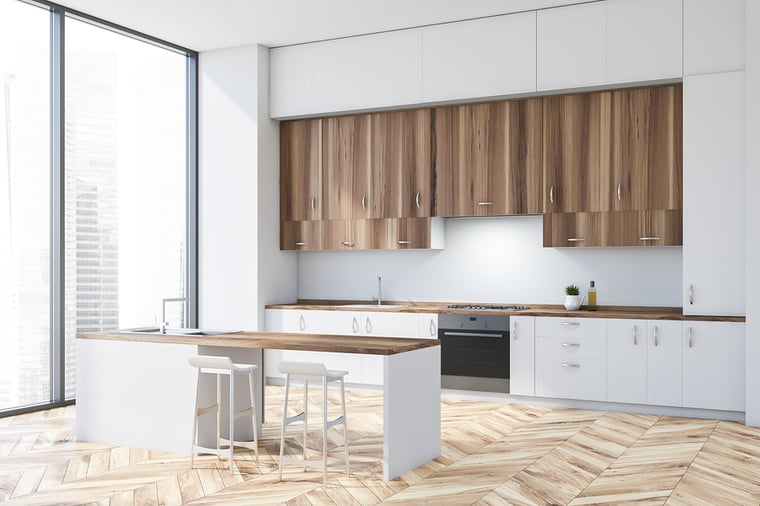 A gathering space for friends and family, most homeowners put a lot of thought and care into designing the kitchen of their dreams. Regardless of your budget, there are small renovations you can complete that truly transform the look of this space. Two-tone cabinets are a popular option for making the kitchen feel bigger.
Two-tone cabinets can really transform a room, especially if you add other enhancements like refinished flooring, new cabinetry hardware or other kitchen décor. There are dozens of color combinations you can choose from, including incorporating black or white with other rich or pastel colors.
So, how do two-tone cabinets make your kitchen feel bigger? The key is the depth and separation created when the two colors come together in the room. By choosing different colors for your top and bottom cabinets, you add dimension and enhance the visual space.
Keep in mind that light will also play a key role in the visual perception of the space. For instance, if you have artificial lighting that is too harsh or too dim, the cabinets won't be showcased appropriately. Adding natural light adds warmth and makes the space feel inviting, while also making it look brighter and more open.
Interior window shades are ideal for kitchens, as they allow you to control the level of natural light to best enhance the room at any time of day. Interior shades from Polar Shades:
Block harmful UV rays, which can damage your décor

Reduce glare and heat, helping to lower your energy bill

Come in a wide range of colors, fabrics, patterns, and styles to beautifully complement your kitchen
Motorized shade configurations allow you to control the shades with the touch of a button, set them on a timer to automatically open and close throughout the day or integrate them with your smart home system for hands-free operation.
Are you ready to transform your kitchen into the space of your dreams? Polar Shades is here to help! Contact us today at 702-260-6110 to schedule your in-home consultation.
For more tips and ideas for a kitchen renovation, read these articles: