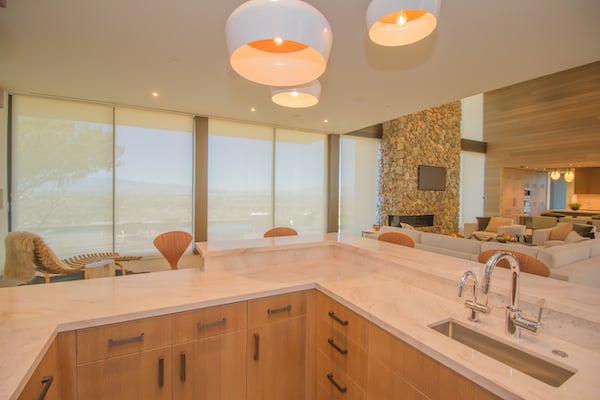 If you are like most people, you probably prioritize functionality over aesthetics when it comes to designing your kitchen. Factors like kitchen appliances, cabinets and storage space may be important considerations, but adding personal touches is what makes a house feel like home. Here are a few ways to give your kitchen character:
Control the Natural Light
Natural light is an important element to a kitchen design, as it enhances both functionality and aesthetic. Window shades allow you to control the level of natural light to fit the mood, while also eliminating glare and UV rays, which keeps your furnishings from fading. They also provide greater privacy for you and your family.
In addition to these functional benefits, window shades add a touch of elegance and are available in a variety of colors, sizes, fabrics, patterns, and styles to suit your décor and color scheme.
Add Statement Lighting
Statement and decorative lighting can be great additions that enhance the natural light while also adding style. Installing low pendants and wall lights that contrast with the rest of the kitchen colors adds visual interest.
Incorporate House Plants
You can bring life into your kitchen by placing green plants in your kitchen spaces. Use trailing plants on high shelves, large houseplants at the corner of your kitchen and short, low-growing plants on your counters and dining table.
Hang Artwork and Pictures
There's no better way to add a personal touch to your kitchen than with strategically placed pieces of art. This works best for kitchens with ample wall space. You can hang a single statement piece or display a collection of your favorite pictures to add character.
Be Bold with the Backsplash
You don't have to make a whole kitchen transformation when you can make a statement with the backsplash. Using bold-patterned or colored tiles will make your backsplash stand out and break the monotony in your simple kitchen. Consider pairing shiny countertops with matt backsplash and vice versa.
Make Your Cabinets Stand Out
You can make your cabinets stand out by using two contrasting colors for the top and bottom parts instead of a uniform look. You can also paint the kitchen island in a different color from the rest of the cabinets. Another option is to add interesting knobs and pulls to your cabinets and drawers. This is a fun way to update your kitchen and can be changed easily.
Open Shelving
While regular cabinets are good for storage and hiding cutter, adding open shelves creates a bespoke look. Incorporate a few open shelves to display your favorite pieces of kitchenware and facilitate easy reach for frequently used items. Open shelves also make space feel airier and more open.
For more tips and ideas on how to choose the best window shades for your home, contact Polar Shades today at 877-260-6110 to discuss the best options to suit your needs, or check out our idea gallery to see some of our interior and exterior window shades, retractable awnings, drapery tracks and more.