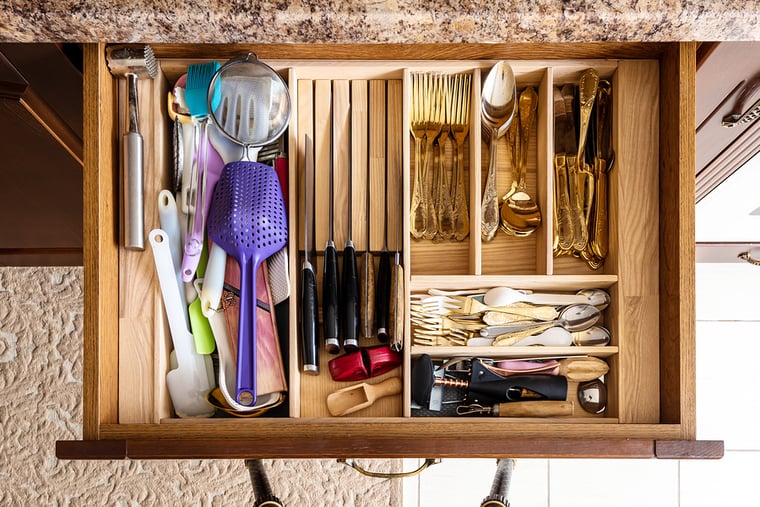 Organizing your kitchen is a challenge, especially when it comes to the cabinets. It often feels like the minute you finish cleaning them out, they start to get messy again. Luckily, there are some simple organization hacks that can help you keep your cabinets organized for the long-term.
1. Start with a Clean Slate
If you really want to organize your cabinets the right way, the first thing you need to do is take everything out and start with a clean slate. You may want to do this one shelf at a time to avoid making a mess, but it's more effective to take out everything at once.
2. Purge Your Items
Next, think carefully about each item and decide whether you really need to keep it. Kitchens are notorious for accumulating things that are rarely or never used. Parting with them will instantly make your space easier to organize. Also sort through your food items, throwing away anything that's expired and donating non-perishable foods you don't think you'll eat.
3. Clean the Cabinets & Drawers
While they're empty, take this time to wipe down each shelf and clean out your drawers. Use a gentle soap and some warm water and let everything dry thoroughly before you start putting things back. You might also want to add some shelf and drawer liners or replace the old ones.
4. Group by Items by Use
Next, divide your kitchen items by use. For example, group together everything that's used for baking, prepping, washing, etc. This will help you to be more efficient and keep the kitchen organized.
5. Convenience Is King
Once your items are grouped, store them as close as possible to where you'll use them. For example, store pots and pans close to your stovetop. You'll also want to organize your food items so the ones you use most often are front and center.
If you have certain items that you only use occasionally, store these in the less-convenient spaces, like up high or in the hard-to-reach areas in the back of deep cupboards. This will free up the prime space for the things you use the most.
6. Add Organizing Essentials
One of the most important keys to staying organized is having the right accessories. Baskets, storage containers, roll-out shelves, hooks, risers, dividers, and peg boards can make all the difference.
7. Put Everything Back
Once everything is set up, you're ready to put start putting your stuff away. Make sure each item has a designated space and consider using labels, so you remember where everything is supposed to go.
Keep Your Kitchen Looking Great
Now that you've got your cabinets organized the right way, you'll find that it's much easier to maintain them and stay organized for the long-term. Before you get started, take a look at these a few more of our favorite tips for keeping your kitchen looking great: