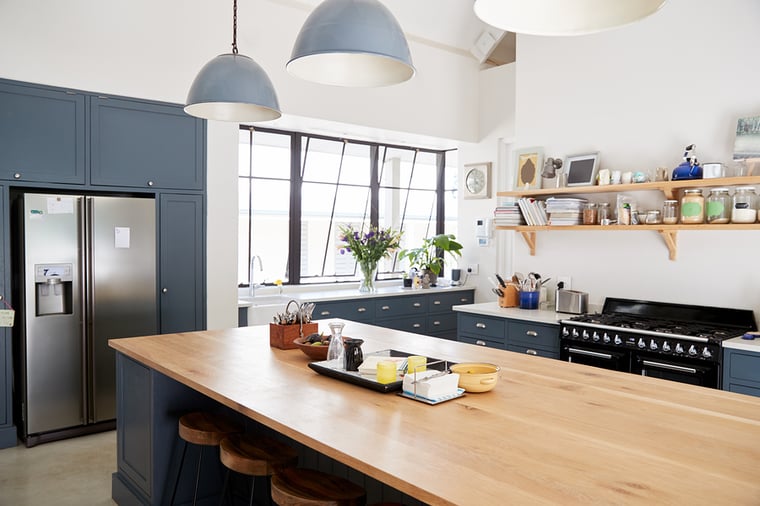 A small kitchen can really cramp your style! Luckily, there are some simple design changes that can make your kitchen look bigger and feel much more comfortable. Don't start planning an expensive remodel just yet! Instead, take a look at some of these smart tips from our design pros:
1. Play with Contrast
You might think dark colors are a bad bet for a small kitchen, but if they're used to create contrast, the effect can really open up a room. Try painting one wall black and surrounding it with a white border. This will actually make the wall look recessed, giving the entire room more depth.
2. Use a Dual-sided Island
It's always a hassle to reach into the depths of a large island to retrieve your kitchen items. Instead, try installing a dual-sided island with shallow cabinets on each side. This will make organizing easier, allowing you to make the best use of your space.
3. Try an Island Cart
You may even take things a step further and use an open cart-style island. This will open up the space while also giving you access to storage on all sides. Choose one on wheels and you'll have even more flexibility. You can move it out of the way when you have guests over or even move it to a different part of the house to serve as a buffet or drink station.
4. Hang Some Open Shelves
Open shelves are really in right now, but you don't necessarily have to use up your critical wall space to take advantage of them. Instead, give yourself extra storage space and create a focal point in the kitchen by hanging open shelving over your island.
5. Add Some Mirrored Backsplash
Mirrors are a great option for making any space look bigger, and the kitchen is no exception. Adding a reflective finish to your backsplash will create the illusion of depth behind your kitchen sink and cabinets.
6. Install a Pull-out Chopping Station
Another creative solution is to skip the island altogether and instead install a pull-out chopping station. This way, it's handy when you need it and out of the way when you don't. Use a slide-out drawer-style cutting board top and place a traditional cabinet or some drawers underneath.
7. Control Your Lighting
Natural lighting is an excellent way to make a small space look larger and more inviting. Adding some interior shades will allow you to control the natural light in your kitchen with a click of a button. Even better, they'll block out UV rays that can ruin your kitchen decor and cut down on distracting glare. Our interior shades come in a wide variety of colors and styles, so you'll have no problem matching them to the rest of your kitchen design. Contact us today at 702-260-6110 to schedule a free, in-home consultation.