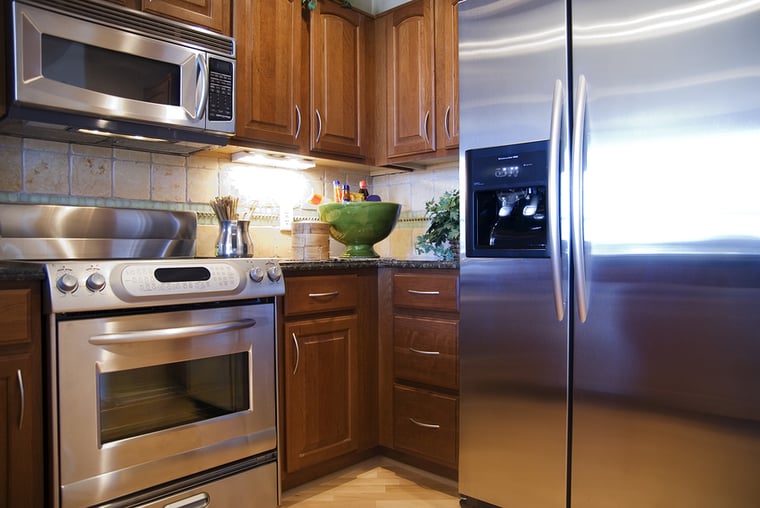 Spring cleaning time is here, and we all love the fresh, sparkling look of our homes after they've been cleaned. However, when it comes to cleaning your kitchen, stainless-steel appliances that are dull, streaked, or stained will make the space look grungy no matter how much you scrub.
Luckily, once you learn how to clean stainless-steel the right way, you'll see just how easy it is to keep it looking like new!
Choose Your Supplies Carefully
First, it's important to choose the right supplies. To avoid damaging your appliances, never use a steel pad or a wire brush, and avoid abrasive cleansers. Instead, gather up a few microfiber towels and some soft sponges. For really tough jobs, you can use a plastic scrubbing pad, but it's best to avoid this if you can.
When choosing a cleaning solution, always avoid anything containing chloride as this can harm the protective finish on your stainless appliances. Instead, choose one or more of the following, depending on the condition of the appliance you're cleaning:
Diluted white vinegar (effective for removing limescale)

Baking soda (removes coffee deposits and stains)

Acetone or other alcohol-based solvents (good for removing adhesives)

Chloride-free glass spray (great for achieving a shiny, polished surface)
Many pros also swear by cleaning with mineral oil. You may have heard that olive oil is a good option, but it's not! There's a chance that any food-based oil could go rancid, so avoid putting this on your appliances.
You can also use a commercial cleaning spray or paste that's specially designed for use on stainless-steel. Stainless-steel sprays typically contain silicone oil that helps to remove smudges and fingerprints. Polish pastes, on the other hand, usually leave a microscopic layer of wax on your appliance's surface, which makes it easier to clean.
Clean in the Direction of the Grain
If you're noticing streaks on your appliances, this is almost always caused by wiping them down in the wrong direction. When cleaning stainless steel surfaces that have polished or brushed finishes, you'll always want to wipe in the same direction as the "grain" lines.
Stay Consistent
Whatever cleaning product you've decided to use, you'll have the best results if you stick with it. Often, different types of cleaning products don't mix well. So, stay consistent and your appliances will look better with less effort on your part.
Be Patient
The European Stainless-steel Development Association (ESDA) says that as time goes on, regular stainless-steel begins to show fewer fingerprints. Maintain a consistent cleaning schedule, and, eventually, your patience will pay off!
Find even more great ideas to help keep your kitchen looking great with these tips: