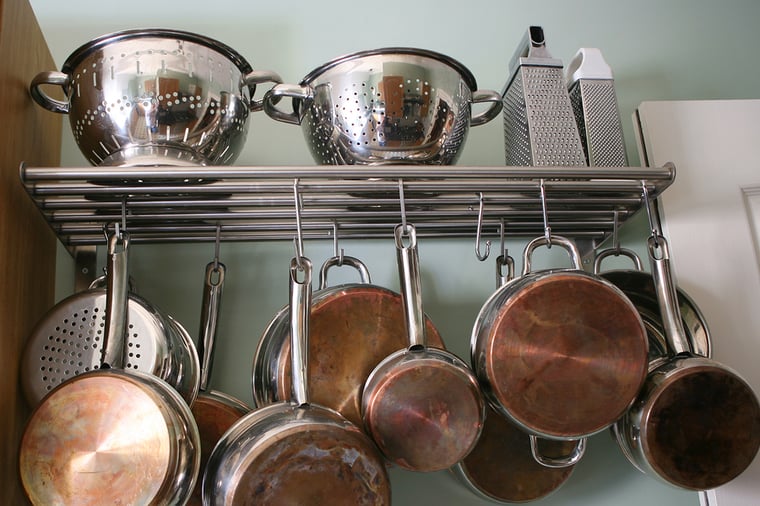 Whether you love to cook, or you just want a neat and organized space, sufficient kitchen storage is vital. Even if you don't have a lot of cabinet or pantry space, with a bit of creativity, you can make a place for everything in your kitchen so that it remains tidy and organized. These storage hacks will make it easier to enjoy prepping, cooking and cleaning up your kitchen:
Hacks to Help Increase Kitchen Storage Space
Use Plenty of Baskets & Bins
One of the best ways to improve organization in the kitchen is to use plenty of baskets and bins. This will help reign in small, loose items and make it easier to find things in a hurry. It's an excellent option for organizing your pantry and can also work inside cupboards, cabinets and deep drawers.
Take Advantage of Pegboards
Pegboards are another excellent organization tool. Consider adding a slide-out pegboard along the side of your sink with a decorative facade. Put rods in the pegboard and hang items like dish towels and potholders.
A pegboard backsplash can also give you a wide array of storage options. Add various hooks and wires so you can store all of your kitchen gadgets and cooking utensils. This puts them in plain sight and gives you easy access so you're not digging through drawers when you need utensils.
Use a Springboard Curtain Rod
Placing a small spring-loaded curtain rod under your sink will instantly double your storage space. Use it to hang all of your cleaning supplies that come in spray bottles. This will open up the space underneath for other items like sponges, dish soap, hand soap, and more.
Make Good Use of Your Toe Kicks
Most kitchens have toe kicks under the cabinets. You can add more storage by taking advantage of this often-underutilized space. Consider adding drawers where you can store items like shallow pans and muffin tins.
Add Some Adjustable Shelving
Floating, adjustable-height shelving gives you plenty of flexibility for storing a wide variety of items. This works really well above the sink, creating a space where you can place your vegetables while you're preparing your meals, store clean dishes, and keep other cooking accessories within arm's reach. You may even want to add one shelf that doubles as a dish-drying rack.
Don't Hesitate to Go Up
Many homeowners ignore those hard-to-reach spaces, but it's easy to add more storage if you utilize vertical space. For example, you can add a shelf over the doorway to store cookbooks or other kitchen items that you don't use frequently. Keeping a folding step stool again the wall will enable you to reach any item whenever you need it.
Add Even More Appeal to Your Kitchen Space
Want to make your kitchen space even more enjoyable? Consider adding some interior shades from Polar Shades. These will allow you to control the amount and quality of light that comes into your kitchen, while also blocking harsh UV rays and glare. Contact us today at 702-260-6110 for a free consultation.