If you're planning on upgrading your concrete patio, don't be afraid to think outside the box. Below are a few creative ideas to help you achieve the perfect look to complement your backyard design.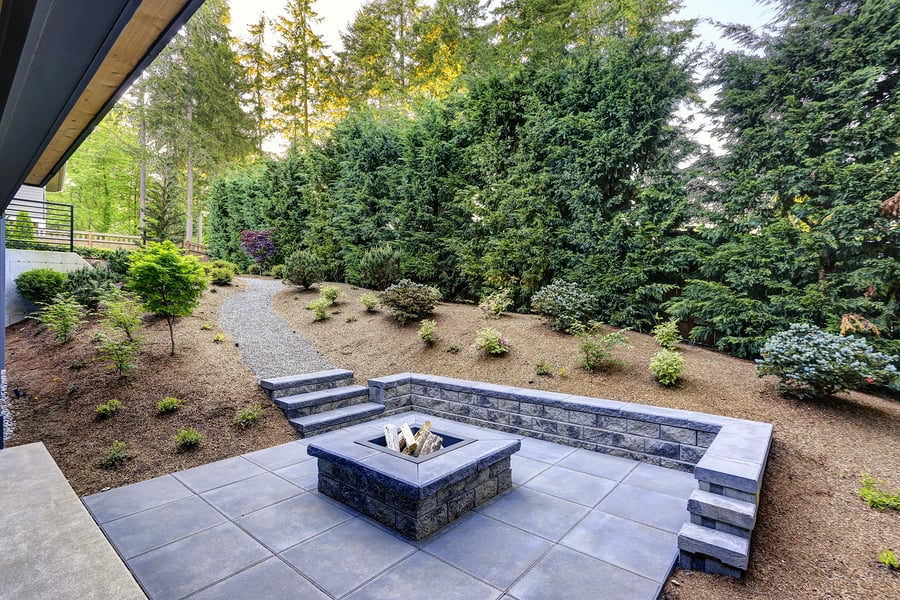 Extend Your Indoor Living Space
Consider a concrete patio that mimics your indoor flooring. Remember, concrete can be stained virtually any color. So, if you have a wooden floor – or even tile or carpeting – you can add a pigment to the stain to match the color almost perfectly. Keeping a patio door open between the two spaces will connect the two spaces visually.
Create a Sunken Fire Pit "Arena"
Consider using concrete to define the entire area, including the floor and seating, making twin focal points: a concrete fire pit and a look-a-like "fireplace" that stores firewood. If the walkway to the fire pit slopes downward, don't worry about wet concrete becoming slippery. Treat it with acid to turn it into a safe, nonslip surface.
Create a Zen Garden
Using exposed aggregate, a concrete base that exposes pebbles, gives a textured look. Exposed aggregate lends itself well to half-gravel beds and stream beds. And if you add blocks of flagstone, your garden can exude a distinctly Zen feel – with or without flowers and water.
Highlight a Naturally Contemporary Look
Consider dividing your patio into repeating quadrants: two squares of concrete offset by one square of soft river pebbles and one square of "crewcut" tufted grass. Depending on how much room you have, you can add even more visual interest by dispersing concrete benches between the quadrants.
These are just a few of the many creative ways concrete can be used to accentuate your backyard's design and add a unique touch. For more ideas for your backyard and patio by checking out these articles: