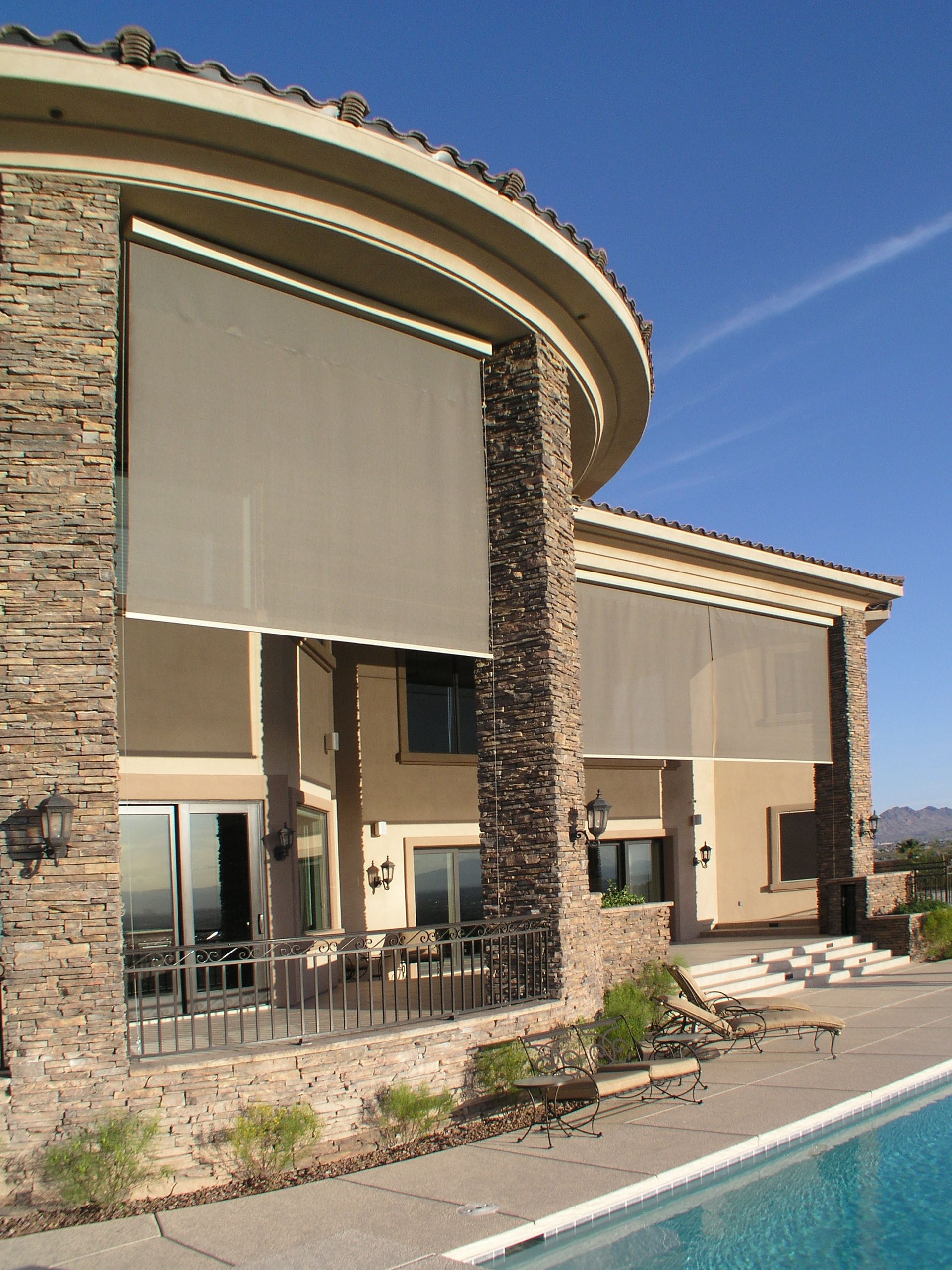 Whether you're looking for sun protection, greater privacy or a way to reduce your energy bill, motorized shades are a versatile solution that transforms any outdoor area into a comfortable and functional living space. Exterior shades reduce glare and heat, which is especially useful in the afternoon when temperatures are at their hottest. You'll be amazed by the amount of privacy and comfort they provide while still affording you the views you love.
Motorized Exterior Shades
Polar Shade's motorized exterior shades will turn your house into a smart home! Just as you use automation for so many features in your home, a simple click provides the ultimate sun control for maximum comfort. Our motorized shades are made from the highest-quality aluminum materials available on today's market. With a variety of fabrics, you're sure to find the one that perfectly complements your home's exterior. Every motorized shade is manufactured at our local Las Vegas facility and comes with a limited lifetime warranty.
The Many Benefits of Motorized Shades
Not only do exterior shades keep your patio area cooler, they have enormous benefits for your interior space as well. Your window treatments have an impact on your home's energy costs. But, did you know exterior shades can have a similar effect? Cooling and protecting your exterior and interior spaces at the same time is just one of the many advantages of exterior shades. Other benefits include:
Protecting your family from exposure to harmful UV rays.

Shielding outdoor furniture from premature fading.

Deterring bugs and other pests during outdoor dinners and parties.
We've installed motorized shades in countless homes throughout Las Vegas and Henderson. Now, we want to do the same for you. Let us help you turn your patio into a lovely year-round living space.
Contact Us to Find the Right Motorized Shade for Your Patio
There's no better time to install an exterior shade. For help in choosing the right motorized shade for your home, contact us at 702-260-6110 to schedule a free, in-home consultation today.