As the days grow longer and the weather gets warmer, everyone starts to think about entertaining in the backyard. Whether you have a porch, patio or deck, we have some fun outdoor dining area ideas to help you set the stage for your al fresco events all season long.
Six Essentials to Outdoor Dining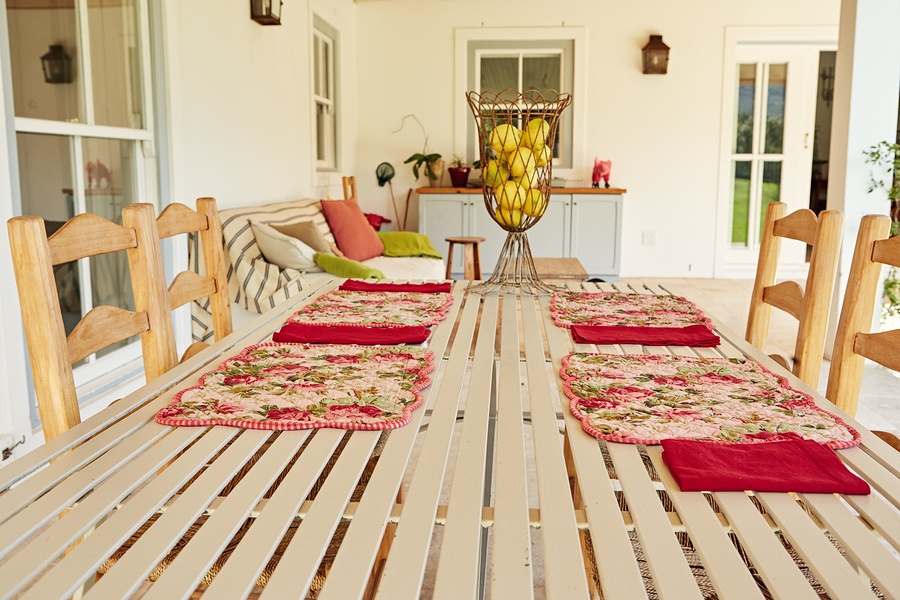 Get creative with tables and seating. Instead of one big table, use two square tables that can be set up in separate locations or pushed together to accommodate larger gatherings. If space permits, add a small bistro table and chairs for more intimate breakfasts or late-night drinks.
Hang string lights between two trees, around decking or attached to a pergola to set the mood. To add interest, use different sets for different areas – and don't forget the candles!
Use exterior Bluetooth speakers to bring music to your outdoor entertainment area. Modern options include 2-way speakers that look like garden sculptures, statues, flower pots, birdhouses, path lighting and more.
Create attractive table settings using colorful placemats, chargers, tablecloths, and napkins. Durable dinnerware made from melamine is a smart choice available in numerous patterns and colors.
Install patio shades or retractable awnings. This is the perfect way to protect your home, furniture and guests from the sun. Exterior patio shades come in a range of sizes, styles, colors and fabrics to complement your outdoor design.
Roll out the bar cart. Cocktails are a big part of outdoor entertaining and portable carts make mixing and serving drinks outside a piece of cake.
Want to learn more about creating your perfect outdoor living space? Check out these blog posts for inspiration and expert tips: