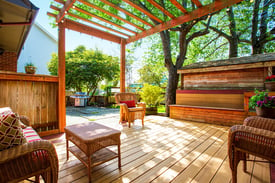 While the desert summers are beautiful, they aren't particularly hospitable to outdoor grilling and traditional summer fun. In fact, the heat can turn outdoorsy homeowners into sun-shy hermits. This summer, consider adding a fun patio to your home to beat the summer heat and make your backyard usable year-round.
1. Put Up a Pergola
Those with a green thumb may want some foliage to provide the shade. A Heavyweight Wisteria or Golden Hops can provide shade as well as natural beauty in your backyard. A pergola is the perfect answer for Las Vegas homeowners who want a picturesque backyard. Pergolas are easy to install and build, so if you're looking for a cheap and simple answer to keeping your backyard cool, start here.
2. Cool Down with a Summer Shower
If you are using your backyard for recreation, you can't go wrong with a backyard shower. Great for hosing off out of the pool or simply cooling off after a hard day. An outdoor shower can be beautiful to look at and simple to install. They require minimal installation and can be used throughout the summer.
3. Unfold the Canopy
What keeps the forest breezy and cool even in the summer? A thick, lush canopy. Las Vegas homeowners can incorporate this rainforest system into their own home too. Choose your fabric or fiber to meet your needs: natural fiber rolls can let light in while keeping cool while a dense fabric can stave off heat without the added light. There's a variety of canopy fabrics to choose from so no matter your decor, you'll find something to match.
4. Pull in Some Shade
ZipRite Shades are the perfect way to enjoy your backyard without all the heat. ZipRite Shades provides a usable outdoor space that is impervious to insects, birds, light, and wind. Unlike other options, it can fully enclose your space to create another room outside and when you want to open the room simply un-zip the shades and you can roll them into their discreet housing. If you're ready to equip your home with a ZipRite Shade, contact Polar Shades at 702-260-6110 for a free in-home consultation.
You don't have to spend another summer trapped indoors by the heat. With a little vision and a small amount of work, you can create the backyard of your dreams. Use these four patio ideas to cool down this summer.