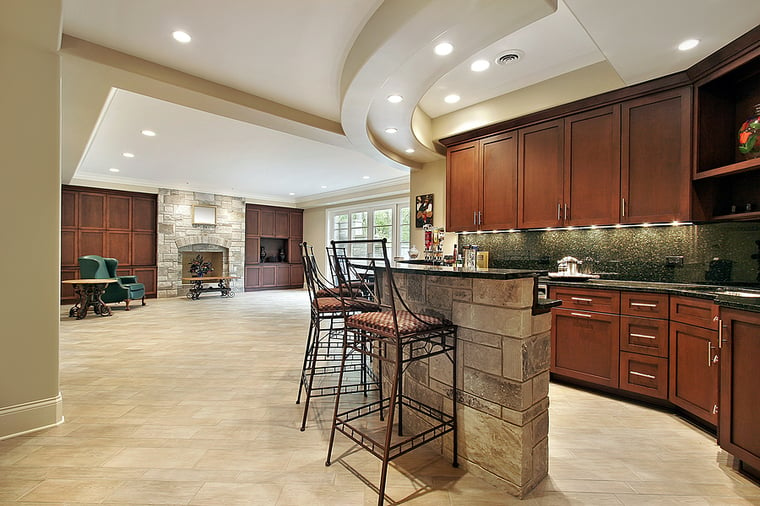 Now that the new year (and new decade) is here, it's time to give your home the updates it deserves. Before you get started, check out some new ideas for the new decade. Here are a few of the top 2020 design trends that you can incorporate into your home:
1. Multi-colored Kitchen Elements
The days of picking one tone for each element of your kitchen went out with 2019. Instead, multiple hues are appearing in kitchens, even for the same elements.
For example, it used to be customary for homeowners to select a single color for their kitchen cabinets. Now, they might select two or even three. You might see a kitchen with white upper cabinets, gray lower cabinets and black cabinets around the island. This color expansion adds depth and visual interest.
Color expansion isn't limited to cabinets. You can also use it for painted portions of your kitchen. Paint your walls one hue, your trim and baseboards one color and your window frames another color. Then, install window shades of a complementary color for even greater contrast and style.
2. Stone Slabs for Kitchen Backsplashes
If you dread the chore of scrubbing the grout in your kitchen's backsplash, you'll be pleased to know that one 2020 trend involves using entire stone slabs for backsplashes. You can opt for a slab that matches your counters, or you can go in a completely different stylistic direction if you want a bolder backsplash.
3. Mixed Finishes for Accessories
Don't feel like every single accessory in a space needs to have the same finish. Instead, utilize multiple finishes for your accessories that coordinate with one another. This is a simple, yet effective way to add contrast to a space. Taking advantage of this trend also allows you to keep accessories that you adore while adding a few new pieces in complementing finishes. If most of the finishes in your kitchen are brushed nickel, you might add a stainless-steel faucet or black matte light fixture for contrast.
4. Beverage Fridges Throughout the Home
A beverage fridge is a convenient addition to nearly any room for numerous reasons. Not only does it allow guests to grab a drink without having to leave the room, but it prevents them from having to disturb the cook while they're trying to finish meal preparations. It's even possible to find fridges that are integrated into other pieces of furniture. For example, you might find a fridge incorporated into a coffee table or a desk.
For more interior design tips and trends, check out these blog posts: