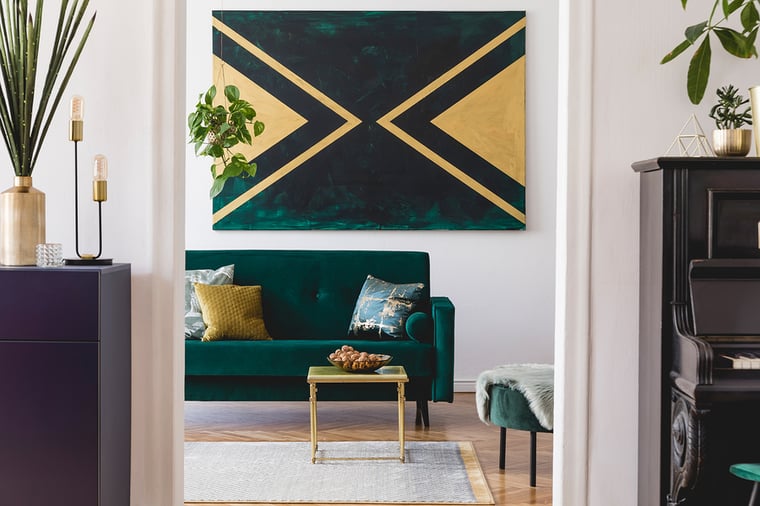 This new year is begging for a return of the decadence and eloquence of the Roaring Twenties. A century ago, art deco and jazz reached their cultural peaks with people focusing on modernity and new technology. Now, a hundred years later, it is a great time to look back and move forward with its inspiration.
If redecorating is on your mind, consider adding some gilt finishes to your color scheme. In every room of the house, gold adds opulence and warmth. So set your Spotify to a jazz station and check out these tips on decorating with gold palettes in your home:
If there are parts of your living room that feel drab, consider a DIY upcycling project and repaint. Pair gold with blue for a color combination that fills your home with subtle luxury. A gold and red combination is cozy enough for family nights at home, but stylish enough for an impromptu get-together.
Luxurious Bedrooms
While soft neutrals can't be beat for a relaxing bedroom, a few gold accents can add luxury to this space as well. Use gold picture frames, light fixtures and drapes for hints of luxury, without overpowering neutral colors. Don't fear mixing natural elements, like wild grasses and woven furniture with a few gold pieces for a stylish and luxurious aesthetic. Duvet covers, throw blankets and accent pillows are great means of trying out the look of gold without the commitment of repainting or a complete restyle if you're not thrilled with it.
24 Karat Kitchens
As you're redecorating your kitchen, there are plenty of opportunities for adding gold. As long as you match the undertone of your gold with your paint scheme, gold finishes will pop and add just a touch of shine. Get drawer pulls in gold, use gold lighting fixtures or a gold top coat on cabinets or upcycled furniture to have your kitchen shining all year round. With the right window shade, you can get your kitchen lighting perfect and keep gold finishes sparkling from sunrise to sunset.
Gold in the Bathroom
Try using gold finishes, such as faucets and drains, for just a touch of decadence paired with your current paint color in the bathroom. If bright and bubbly is your style, use gold with white, bright neutrals or pastels for an airy and light room. Get an elevated rustic style by painting exposed plumbing with gold paint.
A Touch of Glam
If you love the look of just a touch of luxury, but don't want to commit to a wall color, window shades are a great accent for any room. Polar Shades representatives can help you select a fabric for your window treatment that pairs perfectly with your decor and adds a bit of last century's glam.
Stop into the Polar Shades showroom to see the wide array of colors and finishes available for window treatments. Or, contact us at 702-260-6110 to speak with one of our customer service experts about setting up a free, in-home consultation for your window shades.