Did you know that using your green thumb can reduce stress and improve your life? There are actually many health benefits associated with gardening, but what do you do if your home doesn't have enough backyard space to accommodate a traditional garden? With a bit of creativity, you can create a beautiful home garden in some unconventional locations.
6 Unexpected Places to Plant a Garden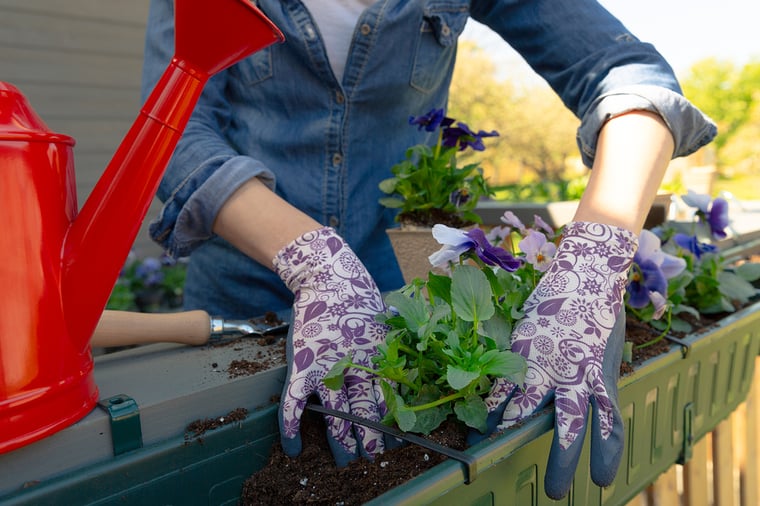 Utilize Front Yard Space
Planting vegetable and herb gardens in the front yard is a trend that's grown in popularity in recent years. By using raised planter boxes or decorative borders and paying attention to the varying heights, colors and textures of your plants, you can create a garden that's both practical and attractive.

Before you plant, however, make sure you check your local ordinances. Some municipalities don't allow residents to plant "crops" in their front yards, and your homeowner's association might require you to request permission before you start your project.

Take Advantage of Your Balcony
If you have a balcony, take advantage of the space by building a long, narrow planter box along the railing. This will give you plenty of room to grow tomatoes, lettuce, peppers, and herbs. Add a trellis along the back of your planter box or allow climbing plants to grow up along the railings. This will add attractive greenery to your balcony while also creating some additional privacy.

While you're updating your balcony, consider adding some window boxes. These are excellent options for growing shallow-rooting lettuces and green beans. An array of different colored heads of lettuce can look just as beautiful as a box full of flowers while being far more practical. Using planter boxes also frees up floor space where you can grow deeper-rooting plants that need more space, like eggplant or tomatoes. Remember, however, that shallow planter boxes will dry out quickly; setting up a drip irrigation system will make your garden easy to maintain.

Mount Plants on Your Kitchen Walls
Chic and stylish planters mounted on a kitchen wall are perfect for growing herbs or even strawberries. Growing plants in your kitchen makes it easy to add fresh ingredients when you're cooking, and you won't have to worry about losing counter space. This interesting approach will give your kitchen a clean, modern feel with an inviting aesthetic – and it's sure to be a conversation starter.

Don't Forget About Your Side Yard
When scoping out spaces to add some plants, don't forget about your side yard. As long as the space gets enough light, it could serve as an ideal garden. If your side yard is small or narrow, use containers or small trellis planters that fit comfortably into the space. This setup can be perfect for growing smaller-sized climbing plants like berries or cherry tomatoes.

Repurpose a Rustic Wagon Wheel
If you can get your hands on a rustic wagon wheel, you can turn it into a stunning garden that's sure to attract tons of attention. Simply prepare the soil, lay your wagon wheel down and use each space as a separate planting area.

This is perfect for growing herbs, and you can mix in succulents and flowers to add color and variety. Using this method doesn't just look great, it also allows you to maximize your planting space.

Use Hanging Baskets
Hanging baskets aren't just for flowers. They're also a super-convenient way to grow fruits, vegetables and herbs. Best of all, there's virtually no limit to the number of places where you can use hanging baskets. Grow fruits and vegetables on your front porch, hang your baskets from the branches of a backyard tree, or build a wire wall where you can hang many baskets in an attractive pattern.

Some plants that work well in baskets include strawberries, tomatoes, rosemary, thyme, mint, and parsley. You can also get creative and try planting cucumbers or peppers. Another idea is to combine lettuce plants with peas or beans to maximize space. The lettuce will grow in the middle, and the beans and peas will trail down the sides of the basket, creating a display that's as interesting as it is delicious.
Once you've started spending more time outside tending your gardens, chances are, you'll want to do even more to beautify your outdoor space. Check out these great articles for some inspiration: