The spring and summer months are upon us, and many homeowners are taking this opportunity to spruce up their outdoor areas. Whether you're looking to add curb appeal by creating an inviting front porch or you want to expand your outdoor living space with a beautifully decorated patio, these tips will help you get your space summer-ready:
Tips to Easily Create an Inviting Outdoor Living Space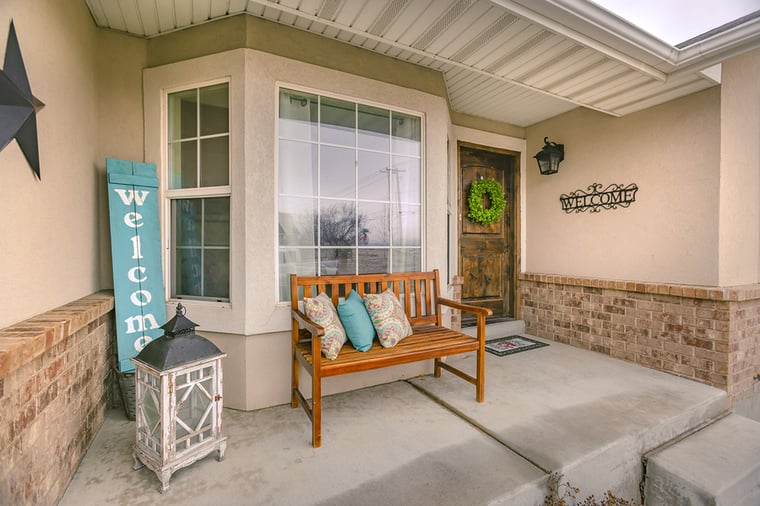 Choose Furniture

Stylish, comfortable furniture will instantly make any area look for appealing and inviting. Group chairs together and add either a coffee table or a small side table in between them. In lieu of individual chairs, you can create a classic look by adding a porch swing. The best set up will depend on how you want your space to function. Think about whether you need lots of seating, a dining table set up or multiple spaces that each serve a different purpose.
Make Good Use of Outdoor Plants
Adding plenty of outdoor plants will give your space a fresh look and feel. You can have a lot of fun with this by choosing unique and interesting pots and adding green plants like ferns. When decorating a large space, use oversized pots as accent pieces. For smaller spaces, add a planter box or choose pots that are tall and narrow. You can also consider hanging plants.
Add Stylish Accessories
Don't forget to accessorize. Adding a new doormat can change the look of your front porch. Consider creating an even more interesting look by placing a doormat on top of a stylish outdoor carpet. Make sure you create a cohesive color scheme by coordinating the color of your front door with your chair cushions, throw pillows, pottery, and other accessories. Varying textures will also catch the eye and make a space more appealing.
Depending on the layout of your porch or patio, you might benefit from adding a fan to stay cool in the summer months, additional lighting to enjoy your patio in the evenings and exterior shades to block the sun and reduce heat.
Get Creative
Don't hesitate to get creative and choose decorative pieces that reflect your unique personality. This will help you achieve a comfortable space where you'll want to spend your time.
If you're looking for new projects to give the outside of your home a fresh look, check out these articles for more inspiration: