One of the best ways to enhance the beauty and functionality of your bathroom is with the strategic placement of lighting, including the vanity, where the right amount, quality and location are critical to your daily routine. Here are some tips to help you choose the right vanity lighting for your master bathroom:
Bathroom Vanity Lighting Types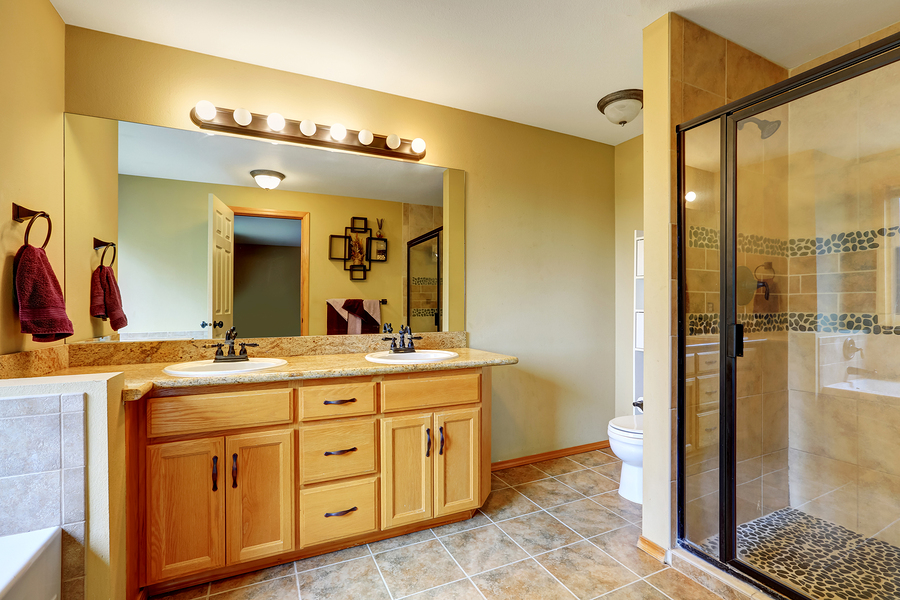 Task lighting focuses on a specific area of activity, and before you choose your fixtures, it is important to narrow down your choices and decide which type of lighting will suit your needs best.
Wall Sconces
Wall sconces are arguably the best type of vanity lighting and can help make tasks such as makeup application and hair styling quick and easy. Choose your sconces based on the following criteria:
Size – Ensure your fixtures are relative in size to the room and mirror; if they are too large, they may overpower the space; if too small, they may be unable to provide adequate light.
Quantity – Select one sconce for each side of the mirror.
Shade – Opt for a semi-opaque shade for each sconce in or to get an even distribution of light.
Placement tip:
Install sconces a minimum of 28 inches apart and 60 inches from the floor, or at eye level.
Bar Lighting
Lighting bars contain two or more fixtures and are typically installed above or to the side of the mirror. While they are fine for providing ambient light, they are not ideal for vanity lighting, as they may cast a glare or shadows.
Placement tip:
The bar should be mounted 78 inches off the floor and centered with the mirror or cabinet.
Pendant Lighting
Pendant lights are a great form of vanity lighting when:
There is existing electrical wiring in the ceiling and opening the walls is neither desirable or feasible.
There is no room beside the mirror to install sconces.
There is a large mirror and multiple lights are needed to illuminate the space.
Placement tip:
Rather than placing them directly overhead, aim to hang pendant fixtures on either side of the mirror.
Recessed Lighting

Recessed lights can enhance your overall lighting scheme, but it's imperative that they are positioned in a way that directs the light towards the person's face, rather than towards the countertop or mirror.
Placement tip:
Install recessed lights close to the wall to place the light in front of the user, rather than behind them.
Want more ideas on how to liven up your bathroom? Read here: