Do you often wish your bathroom was larger, but don't want to pay for an expensive remodel? The following are six design techniques you can use to give the illusion of a larger bathroom without remodeling: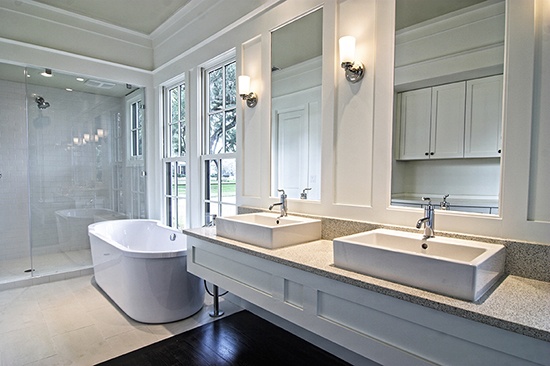 Use Plenty of White
With white fixtures, tile, wall paint, and furniture, you can open up your bathroom and give it an airy and spacious look. To add more visual interest, use textural elements such as molding or touches of wood or metallics.
Choose a Floating Vanity
If you need to add storage space in your bathroom, a floating vanity attaches to the wall and has no legs, giving you extra storage room. This space extends from wall-to-wall, making your bathroom look larger.
Add a Large Mirror
A large mirror can have a powerful effect, and it's usually less expensive than covering the space with tile. Mirrors give the illusion of more space and reflect light throughout the room. Several smaller mirrors artfully arranged together can also have a similar effect.
Eliminate clutter
Clutter can make any room look smaller. It diverts the eye in many different directions and makes the space look crowded. Keep very few essential items visible and keep everything else in a storage area.
Use a Glass Panel
Replace your shower curtain - which forms a visual wall - with a glass panel or door to open up your shower and make your bathroom look larger. For more privacy, add frosted or tinted glass.
Brighten It Up
Light can make your bathroom look more open, giving the illusion of more space. Window shades can provide privacy while letting light in, and options such as wall sconces, recessed lighting or a countertop lamp can also increase the amount of light to make your bathroom look larger.
Get more expert bathroom design hacks by checking out these blog posts: