When you know you've found your forever home, it can be tricky to know the best way to renovate with your future needs in mind. Bathrooms might be the most important rooms in your home in terms of functionality, because of the many tasks performed in them each day. If you're planning a bathroom update, here are some design ideas that will look great and be helpful as you age:
Bathroom Updates to Increase Functionality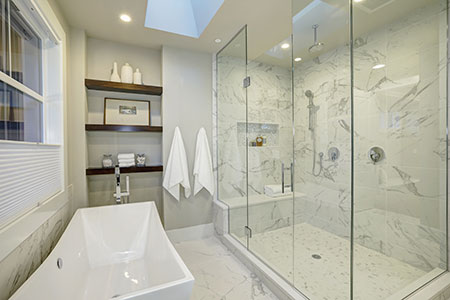 1

Shower Bench

Shower benches look sleek and sophisticated and will prove to be invaluable as you get older. Benches offer a safe place to sit and reduce the risk of slipping in the shower, making this a useful upgrade for all ages. If you opt for a free-standing bench, make sure you get one sturdy and large enough to sit comfortably on.
2

Handheld Showerhead

This is another upgrade people of all ages love, as it offers greater functionality for every situation. From rinsing small children off to bathing pets, a handheld showerhead is a helpful addition to every tub. If you have any elderly people in your home, being able to rinse themselves while seated will make showering easier and safer.
3

Tall Fixtures

The standard height for a vanity is just over 31 inches and toilets are just under 16 inches. You can, however, customize these fixtures to meet your needs. For example, a taller counter and sink mean you won't have to hunch over when you're washing your face or brushing your teeth.
4

Rethink Glass Fixtures

Glass is a go-to finish in most bathrooms because it offers a sophisticated, clean look while opening up what is, typically, a small space. On the other hand, glass requires frequent cleaning and isn't the sturdiest option due its fragility.
5

Plenty of Lighting

Shadows in the bathroom can hide wet spots and other hazards. Consider adding specialized recessed lighting in your enclosed shower, and make sure the entire room gets plenty of natural light. Window shades are a great addition, as they offer increased privacy while allowing you to filter the natural light in the room.

When designing the bathroom, make sure you're making choices that will serve you well, now and for many years to come. Read these blog posts for more tips on how to superbly design your bathroom: