Bathrooms tend to be stark and cold, as a result of hard surfaces like countertops, cabinetry and flooring, as well as white and metallic finishes and hardware. Adding color is a great way to make your bathroom not only more eye-catching, but more inviting and comfortable. There are a number of unconventional ways to add color to your bathroom to reflect your individual style, and below, we're sharing 5.
5 Design Tips for Adding Color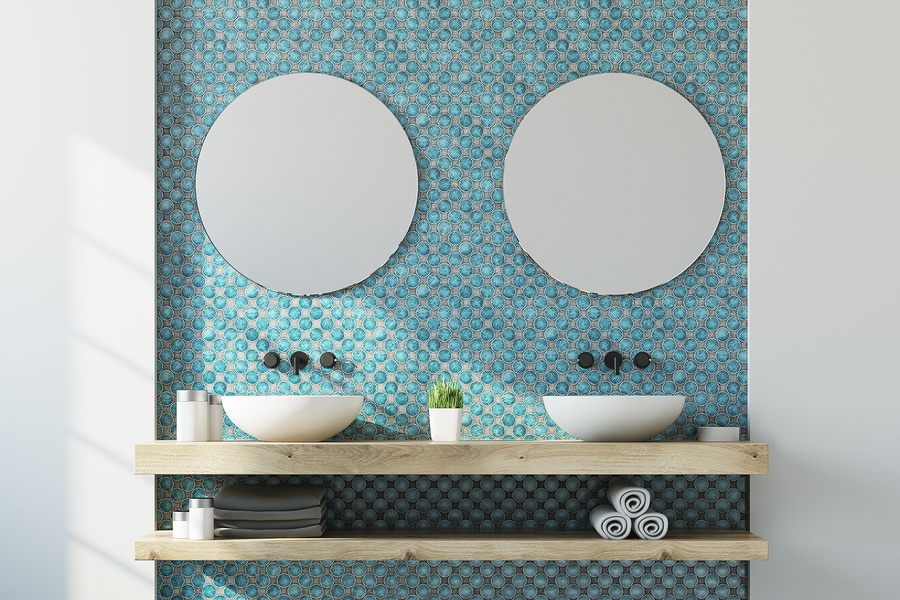 Patterned Floor Tile

Add a pop of color in the shower, around the perimeter of the bathroom or in a random pattern throughout the floor space with color-rich tiles. An interesting tile pattern adds visual interest.

Bold Lighting

A variety of different fixtures and strategic placement of lighting is a great way to introduce color into a space, with shades and fixtures available in numerous hues. For an added touch of elegance, consider adding a beaded or bejeweled chandelier, placed on a dimmer to control the level of light.

Wide Stripes

Stripes are common in draperies and floor coverings. A wide stripe in a cool blue, bold red, sunny yellow, or hot pink, adds personality and charm to the bathroom, and can be carried throughout the space using accessories or fresh flowers. You can also incorporate stripes as part of your décor or tile work.

One-of-a-kind Vanities

Spice up your decor with a unique vanity made from an old dresser, table or night stand. Complete the look with several coats of bright, lacquered paint in your favorite color. This will help preserve your furniture, in addition to brightening up the room.

Stylish Window Shades

Window shades are a sleek upgrade that can accentuate any bathroom design. You can choose from a variety of fabrics, colors and styles to complement your décor and add texture.
With these simple additions you'll be able to create the bathroom design that perfectly reflects your personality and style. Contact us at 877-261-6110 to learn more about our window coverings. To get more bathroom design tips, read here: