Looking for modern updates to give your bathroom that luxurious spa feeling? This year's bathroom design trends are all about simplicity and creativity. You can create an open, calming atmosphere with the right paint job, decor and lighting, and a bit of technology for that modern effect. These trends are simpler and easier to implement than you might think.
How to Implement Top Bathroom Design Trends for 2018
Floating Vanities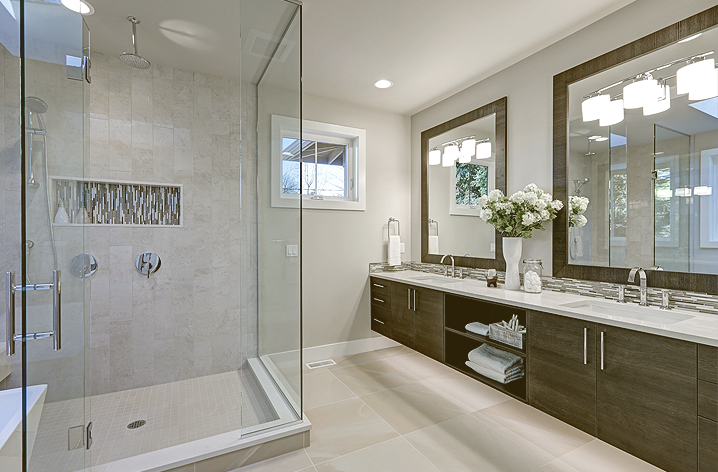 Floating vanities are becoming increasingly popular. Mounted to the wall with plumbing hidden in a casing below the sink, floating vanities free up floor space and creates a modern look.
Technology in the Bathroom
This year's bathroom design trends include ultra-modern updates like digital temperature controls for the shower and LED lighting for the vanity. If you're planning a full bathroom remodel, consider adding some tech upgrades.
Heated Floors
Comfort is key with recent design trends. Create a relaxing oasis within your home by installing heated floor tiles. Stepping out of your tub and onto to a warm surface is the ultimate luxury. What makes this feature even better is the ability to use a heating system under a variety of flooring options.
Calming Colors
Going with the spa theme, a cool and calming color palette is a top trend for bathrooms. Gray tones are more welcoming than a stark black and white design, offering warmth while maintaining a neutral backdrop for the rest of your bathroom decor. Add texture through quartz counters, soft towels and wooden accent furniture to keep the space from feeling cold.
Proper Lighting
A bright bathroom is the perfect way to become awake and alert when getting ready to start the day. Mirrors will reflect that light throughout the space and adding window shades will allow you to control the natural lighting.
By incorporating these bathroom design trends, you'll create a relaxing, modern space that will make your morning routine more enjoyable. To learn more bathroom design tips, check out these articles: