You put hours into making sure your bathroom is designed perfectly. The right lighting can majorly enhance your design. Check out these bathroom lighting tips to determine the right amount and type of lighting to best complement your bathroom design:
Choosing the Right Lighting to Enhance Your Bathroom Design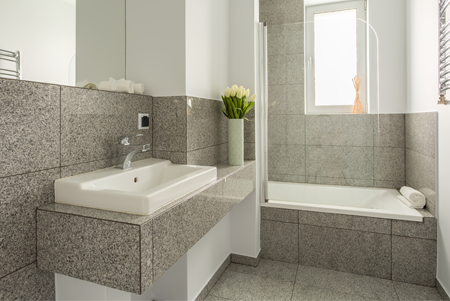 Types of Lighting
Task Lighting
As the name suggests, task lighting is used to assist in the performance of tasks such as showering, shaving or makeup application. In order to provide adequate lighting in the shower, an overhead, recessed fixture works best, although care must be taken to ensure the fixture is rated for use in a wet space and professionally installed and waterproofed. For your bathroom counter, vanity lighting should be installed on either side of your mirror, at eye level. This positioning prevents unflattering shadows and illuminates the entire surface of the face, unlike overhead lighting which can cast shadows under the eyes and chin.
Ambient Lighting
Ambient lighting is the source of overall lighting in the room and can be achieved using a series of recessed or flush mount fixtures, a central ceiling fixture or any combination. This type of lighting sets the mood and tone of the room and can be placed on a dimmer to enhance and control the intensity of light, for a more Zen or spa-like experience.
Decorative Lighting
In the master bathroom, a decorative fixture such as a pendant or chandelier can add a touch of whimsy and elegance to the room, while providing an alternate source of light.
Natural Lighting
One or more windows can provide natural light and ventilation, although they require adequate covering to ensure privacy and maximize sun control. Custom interior shades are the perfect solution, with a wide range of fabrics and finishes to compliment any decor.
To preserve the integrity of your bathroom light fixtures, you must reduce moisture buildup. When bathing or showering, use your overhead fan or natural ventilation from windows. For optimum lighting, choose light bulbs that produce light similar to natural daylight, opting for warm, bright LED bulbs. Motion detector lights are great for late night visits and can be connected to low level light sources to prevent disturbances.
For more information on window shades and the various materials available to help you control your lighting,
contact us
at 702-260-6110 to schedule a free, in-home consultation today! Check out these articles for more design and lighting tips: