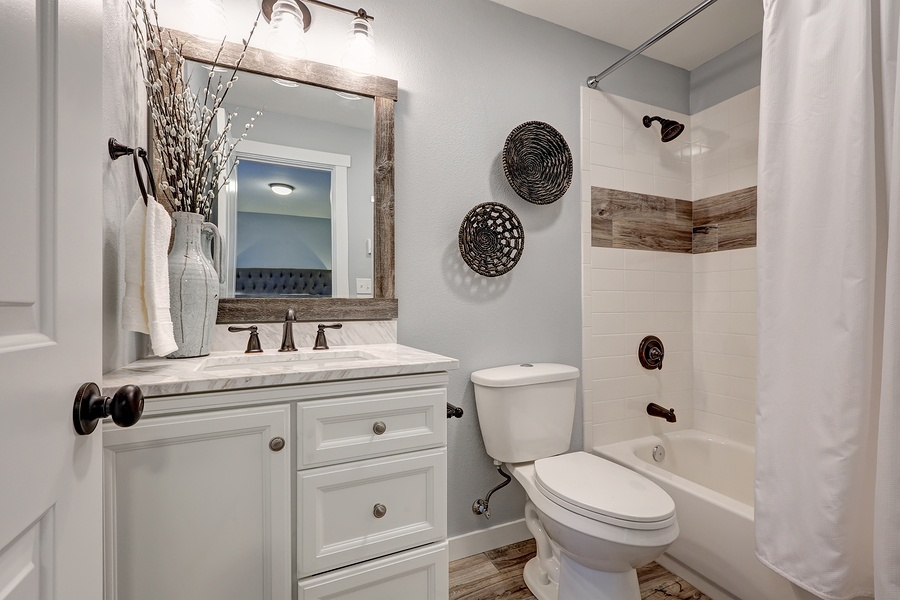 You don't have to undertake a huge remodeling project to give your bathroom a facelift. There are many minor ways to majorly transform your space. Whether it's changing the wall colors or adding interior shades, here are the top tips to refresh your bathroom's look and feel:
Add Some Color
One of the fastest, easiest, most economical ways to transform a room is with a fresh coat of paint. If you're willing to do the work yourself the project can be completed in a weekend, including prepping the space, applying two coats of paint, and allowing for drying time.
Update Your Lighting
New lighting fixtures can update a tired bathroom, provide task lighting or add a touch of sparkle. A chandelier can add glamour to your master bathroom, while a pair of wall sconces on either side of your guest bathroom mirror can provide just the right amount of light in a small space.
Get Personal
Surround yourself with soft, luxurious textures, dreamy scents, colorful artwork, framed photographs, and other items that reflect your personality and style. Replace old or worn tile work on your floor, shower or backsplash with a color, pattern, or texture you love for a clean, spa-like feel.
Replace Your Countertop
If your bathroom countertop, faucet and sink are looking worn, consider replacing them with a new one-piece vanity, or as separate elements on top of your custom cabinetry. For a more cohesive feel, you may want to choose a color and stone in line with your kitchen countertop. Purchasing a high-quality faucet from a reputable manufacturer will allow for years of trouble free use. Be sure to match the finish with the others in the room.
Give Yourself Some Privacy with Interior Shades
Bathroom windows provide natural lighting and ventilation, but how you choose to dress them will determine how much control you have over the light in the room, and your privacy. Custom interior shades are the perfect solution. Choose from any number of beautiful finishes to enhance your bathroom decor, and manual or motorized function for maximum flexibility.
If you're looking to turn your bathroom into a relaxing retreat, contact us today at 877-260-6110 to get a free quote on our interior shades, and be sure to download our Shades vs. Blinds guide to determine which type of window treatment is right for your next project.