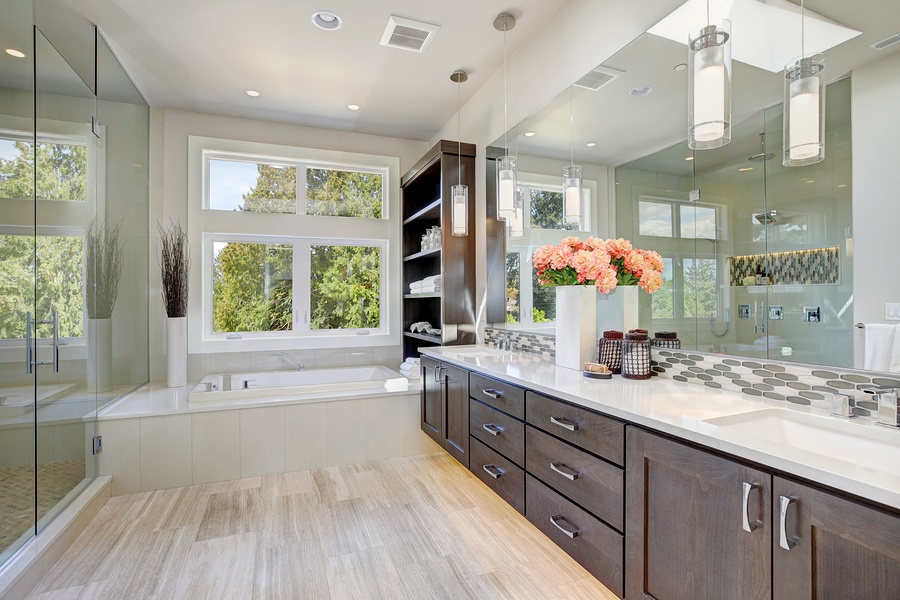 Vanities tend to get cluttered, making your bathroom feel crowded. Here are some tips to help organize your vanity for maximum space:
Mull Over These 6 Bright Ideas
Declutter your vanity by installing:
Open shelves, an idea many homeowners resist for fear it may "clutter up" the room. However, open shelves below the vanity, as well as on the walls, can make even a small bathroom feel airier.
A shallow, shaped drawer around the sink and pipes. A drawer with a notch will help ensure that you use all your available space – so you can save space on your vanity top.
Thin drawers around the sink. Small items can be simple to find and grasp in drawers that are 6 inches deep.
Tip-out drawers. You may have seen them in upscale hotels: pull a knob and a small drawer opens, holding more small items such as toothbrushes and toothpaste.
Toe-kick drawers. Depending on how much room you have along your floor, you could make use of this available space by adding small pull-out drawers. Just ensure the drawers don't scrape the floor.
A tool slot drawer. Add a built-in outlet so you can stash and use your blow dryers and hair gadgets without cramming your vanity top.
By installing these types of drawers and shelves in your bathroom, you'll be able to clear the clutter off of your vanity and make your bathroom look and feel more open. Get more home organization and bathroom design tips with these blog posts: