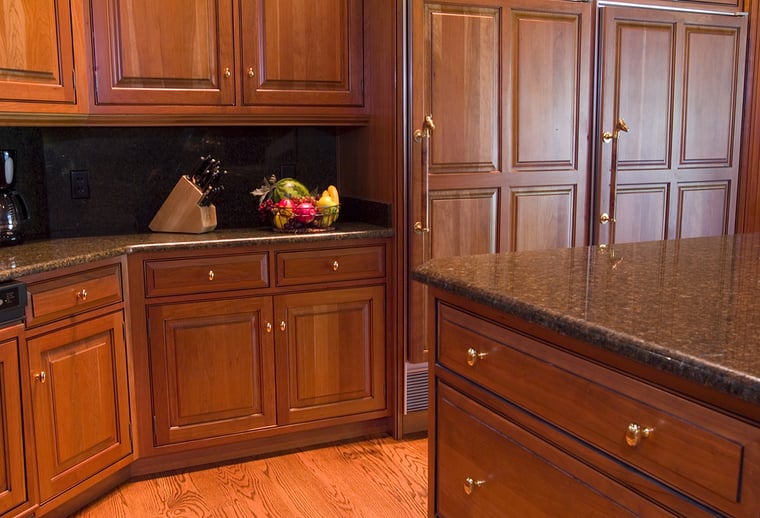 Natural wood cabinets can give your kitchen or bathroom a gorgeous and sophisticated look. However, keeping them clean often poses a challenge. Luckily, once you know a few of the most important tips and tricks, it's easy to keep your cabinets looking like new for decades.
Take a look at this step-by-step guide to cleaning and protecting your wood cabinets:
1. Choose the Right Cleaner
The cleaner you use will make a big difference. Many professionals swear by Murphy's Oil Soap or other similar commercial cleaners. However, you can also make your own solution that's both natural and eco-friendly. A 50/50 mix of white vinegar and warm water placed in a spray bottle works wonders. If your cabinets are particularly greasy or grimy, add a couple of drops of dish soap to the mix as well.
2. Wipe Down and Deep Clean
Start by applying the cleaner to the front of the cabinet doors. Use a sponge or soft cloth to wipe them down and add some extra elbow grease to any areas that are particularly dirty. Next, wipe some cleaner on the hardware and use a toothbrush dipped in the cleaner to scrub the wood around door handles and any ornate crevices. Finally, apply the cleaner to the inside of the cabinets with a cloth or sponge and wipe this down as well.
3. Remove Stubborn Stains
It's common to come across sticky, stubborn stains that have splattered onto the cabinets. Don't worry! You can easily remove these with a paste made from salt and vinegar or with baking soda. Scrub the area gently with a soft toothbrush or a wet sponge. Make sure you don't scrub too hard or use abrasive cleaning tools like steel wool or bristle scrubbers, as these will scratch and damage the wood.
4. Rinse Thoroughly
Once you're satisfied that the cabinets are clean, you'll want to rinse off the cleaner thoroughly. Do this with a second sponge or cloth dipped in clean water.
5. Dry Them Down
When you're done, dry all of the surfaces thoroughly. A clean, soft towel or microfiber cloth will do the trick.
6. Protect Them from Future Stains
Now that your cabinets are perfectly clean, you'll want to keep them that way. Simply mix equal parts vinegar and vegetable oil and lightly rub the mixture into the wood's surface with a clean, soft cloth. Then, buff the surface until it shines.
Now that your cabinets look great, you might feel inspired to dress your kitchen up even more. Start with these great tips from our pros: