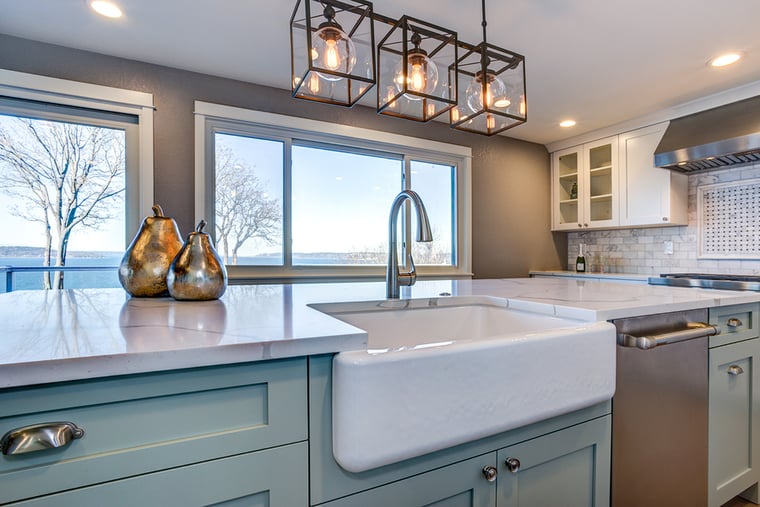 While the island is certainly one of the most functional parts of a kitchen, when it comes to decor, there's no reason you can't treat it just like a piece of furniture. Give your kitchen some unique personality by customizing the materials you use, the color of the island and other small details. Painting your island in a bright, bold color or something more soft and subtle turns it into a beautiful focal point. It's a trend that's gaining in popularity, for good reason. Here are a few of the best ideas we've seen so far:
1. Dark Burgundy or Wine
An island painted dark burgundy or deep purple makes a real statement in a kitchen that's otherwise light and airy. This works well in an open kitchen that's mostly white and has plenty of windows to let in natural light. Paint the entire base of the island in your favorite wine-colored hue and pair it with a bright white marble or granite top.
2. All Shades of Blue
Blue is the most popular color of the year, and a wide variety of shades work well for kitchen islands. Choose a classic blue, a soft blue with a touch of gray or a bright sky blue. To create a super classy look, pair a dark navy blue with a pewter top and an iron frame. This is the perfect way to blend farmhouse and industrial styles and create a unique centerpiece that is sure to attract a lot of attention.
3. Crimson Red
In a kitchen that's otherwise decorated with soft, calming colors, a splash of crimson red can give your kitchen the "wow" factor you're looking for. Make sure you add in some other bits of red throughout the kitchen to help tie the room together. This could include a red stand mixer, some red bookends and textiles, like curtains or seat cushions, that include a bit of the same shade.
4. Bright Yellow
If you love to play with color, a bright yellow island may be perfect for you. This works great in a kitchen that is primarily white but has other brightly colored accents. Consider, for example, adding a breakfast nook with a green table, blue chairs and multi-colored pillows. Add some brightly colored dishes to glass-front cabinets and you've got a fun, playful kitchen with a decidedly happy vibe.
5. Dark or Mint Green
A dark, forest green can work well with rich wood cabinets and cream-colored countertops. This creates a natural, earthy feel that will appeal to many homeowners. Tie the room together by adding a matching hutch and a multi-colored backsplash with a bit of the same shade.
Another option is to choose a light, mint green for your island. This will create a completely different look and feel. This shade looks great in a kitchen that's predominately cream-colored. Add some natural-colored window shades to complete the look and allow for the perfect amount of natural light at all times.
Window shades from Polar Shades are manufactured using the highest-quality materials. All of our shades are produced in-house using state-of-the-art equipment. For window shades that are durable, stylish, functional, and versatile, choose Polar Shades. Call 702-260-6110 to learn more about our motorized and manual shades and schedule a free consultation today.