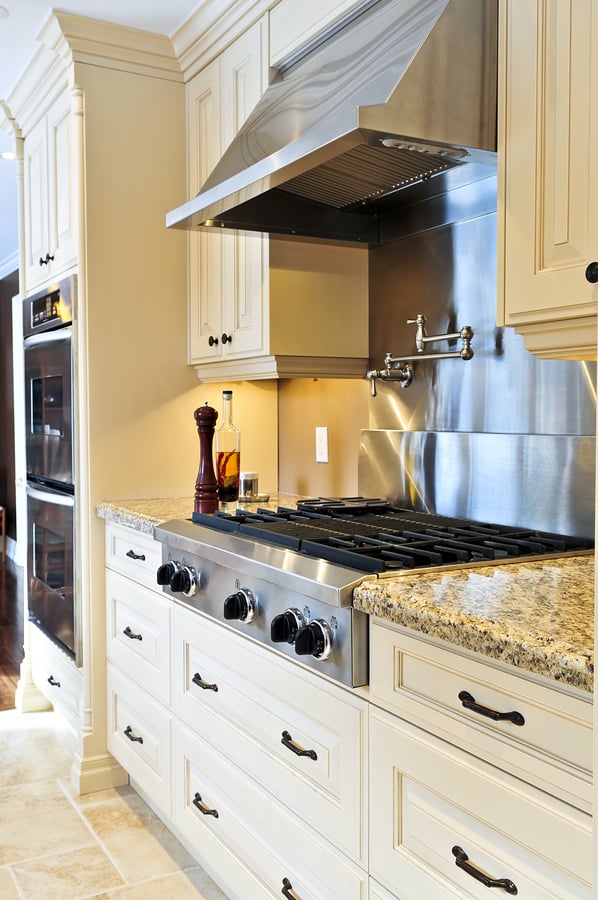 The kitchen is the heart of your home. In such a high-traffic area, your design choices should be as functional as they are stylish. You can do this by utilizing functional pieces, like your range hood, to create a visual vocal point for a design that pops.
Bigger Means Bolder
Have you considered installing or upgrading to a larger sized range hood? This oversized appliance gives your kitchen a style overhaul by making a bold visual statement.
Pick a Contrasting Color
Picking a range hood color that contrasts well with the rest of your color scheme is a great way to not only make it stand out, but also add dimension to your kitchen. It's important to keep in mind, however, that the contrasting color you choose should not clash, but instead break up the color continuity in a way that blends well with your other colors and fixtures.
Create a Custom Sheath
You don't need to focus on metals only; you can create a sheath for the range hood out of nearly any material. Some homeowners have designed hood sheaths that match their countertops, while others match them to the backsplash. Wood, ceramic tiles, vinyl — your options are endless!
Keep in mind that the natural light will impact that look of your kitchen range throughout the day. Secure style and comfort with interior window shades from Polar Shades. Our innovative shading solutions will help keep your kitchen comfortable at all times of the day. These industry-leading products will limit the UV rays and heat and allow you to control the light that enters your kitchen, providing you with an attractive and useful addition that can be controlled effortlessly with motorized or manual configurations.
For more information on our numerous shade options and to find the right ones for your home, contact us at 702-260-6110 to schedule a free, in-home consultation. For more kitchen design ideas and tips, check out these blog posts: