Making your living room cozy and inviting can be accomplished in a variety of ways. Using a classic color like navy blue can transform your living room into a stylish, serene space that exudes a welcoming vibe. These three easy, fun design ideas for incorporating navy into your living room will help you create a tranquil space that feels brand-new:
3 Ways to Use Navy Blue in Your Living Room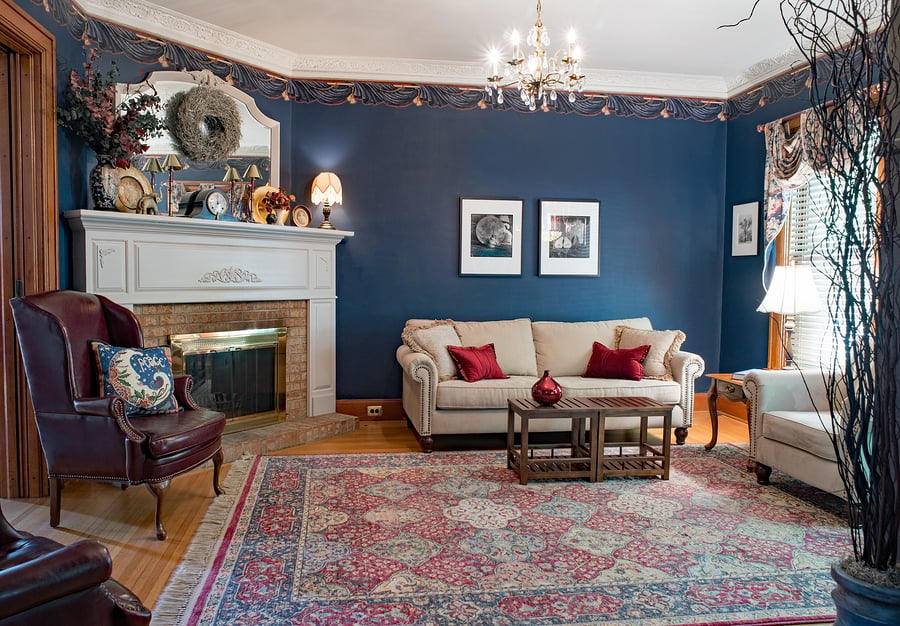 1. Make an Impact with Paint
Blue tones evoke a sense of calm, which makes them perfect for rooms that are designed for hanging out and relaxing. Adding a fresh coat of paint to the walls is an easy and inexpensive way to create a completely new look for any room. A bold hue like navy blue makes for a great accent wall, as long as the other walls in the room are painted in light gray or white tones. If you want to paint the whole room blue, white or silver trim will really make the color pop.
2. Go Blue with Furniture
Lush furniture fabrics like velvet look fabulous in navy. Be careful not to go overboard, though – too much navy can overwhelm small spaces and make them feel cramped. Take the size and lighting of the room into consideration and choose wisely. If your living room is on the small side or doesn't get much natural light from windows, a piece of navy furniture like an armchair might be enough. Pairing it with a light gray or mustard-colored couch and some navy throw pillows creates a sophisticated, fresh look. If the room is larger, you can buy multiple navy pieces and make them pop with lighter-hued accents and accessories.
3. Try Textiles and Patterns
Textiles like blankets, pillows and rugs are another fun, affordable way to experiment with navy in your home. Navy is a bold shade of blue, and solid-color textiles may look a bit harsh – look for navy items in a variety of patterns, prints and textures. Go with your personal preferences; navy works well with just about any color, so it's up to you whether you want to brighten up the room by combining it with sunny yellows and pinks or more subdued grays. Regal colors like ruby red will give your living room a rich, luxurious look.
You may also want to consider putting up patterned wallpaper that includes navy on an accent wall. If you have any artwork that incorporates blue, put it up and watch how it complements other colors in the room.
For more tips and ideas on living room décor, read these articles: