You might not be familiar with the term "light-emitting diodes", but you see their effects everywhere. Light-emitting diodes are better known by their acronym: LED. This is the technology that has made light bulbs smaller, more effective, longer lasting, and eco-friendlier than Thomas Edison ever dreamed possible. They can also transform your home in ways incandescent bulbs never could. Take a look at these great LED lighting hacks to bring out your inner designer: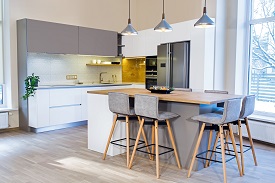 5 LED Lighting Hacks
Vanity Lights for an HD Reflection
Because LED lighting is crisp and clean, it reduces shadows on your face when you look into the mirror, making it ideal for vanity lighting.
Wall Lighting to Make Your Colors Pop
Using LED lighting to wash walls with upward or downward light is a great way to accentuate the walls' textured finishes or highlight colors.
Focused Lighting for Kitchen Efficiency
Sometimes the right light at the right time can make all the difference in the world. This is especially true in the kitchen, where tasks such as prepping food, reading recipes and measuring ingredients can be made much easier when LED strip lighting is installed under cabinets to decrease shadows and provide focused light.
Stair Lights for a Touch of Elegance
A touch of LED lighting under each step adds a unique touch of style and sophistication. The increased light also helps reduce the risk of injury.
Artistic Lighting to Make a Statement
Whether it's a prized piece of art or a family heirloom, the things that matter most to you should be displayed in the best light possible. That means using LED lighting to present your prized possessions so that they look their best and serve as the centerpiece to the room.
Learn more lighting tips and trick and how you can plan just the right lighting for every room in your home by reading here: