Is your garage a cluttered mess? Has it been years since you've actually been about to pull your vehicles inside? This is a common problem, but it's not one you have to live with. Once you learn some of the best garage organization hacks, it will be easy to create an efficient space that can hold all of your belongings.
Tips for Giving Your Garage a Complete Overhaul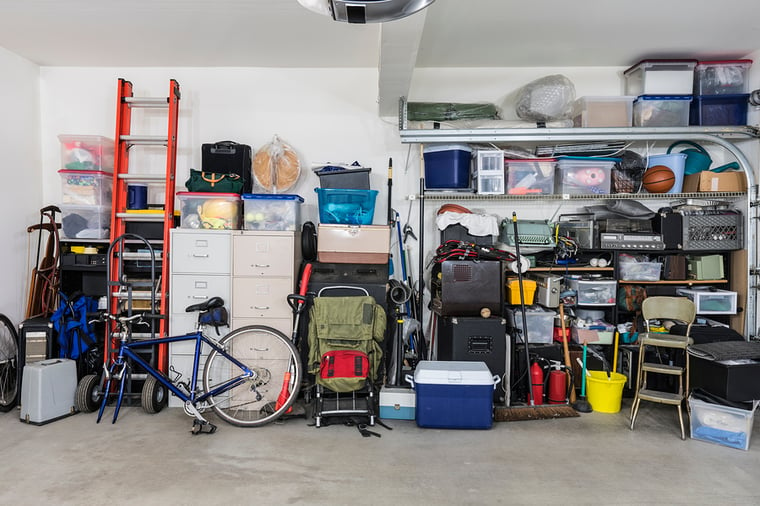 Start with a Clean & Empty Space
Start by taking everything out of your garage. This is the perfect time to sort through your belongings and declutter. Separate anything you don't use anymore and make plans to get rid of it by giving it away, donating it to charity or selling it on websites like Craigslist or Facebook Marketplace.
Once the garage is empty, use a broom, leaf blower or shop vac to clear out dust and cobwebs. You may also wish to take this opportunity to pressure-wash the garage floor. Once everything is clean and dry, you're ready to start your makeover.
Store Tools & Equipment on the Walls
Magnetic strips are perfect for storing tools; while you could purchase a tool cabinet, they are much more expensive and less convenient. By hanging your tools out in plain sight, you'll make it much easier to grab them when you need them. You can find these magnetic panels in your local home improvement store and easily hang them with a mounting bracket. Also consider installing pegboard along one wall. Using hooks and nails, you can create an almost unlimited array of storage solutions for all of your tools and equipment.
Install a Fold-down Workbench
A large workbench takes up a lot of space in your garage. If you don't use one frequently, consider installing a space-saving fold-away version instead. This is an easy DIY project.
Add Some Ceiling Hooks
Bicycles can also take up a lot of space. Deal with this by adding some heavy-duty rubber-coated ceiling hooks and hanging each bike upside down by one wheel, so it hangs vertically. You could also buy a bicycle rack, but this will set you back $200 to $600. Ceiling hooks work just as well and are cost-efficient.
Hang Overhead Shelves
If you have storage boxes and plastic totes sprawled all over your garage floor, it presents a major organizational challenge. Take care of this by installing some sturdy wall-mounted shelving. This will likely cost you anywhere from $20 to $500, depending on how many shelves you need and how much weight they need to hold.
This is a perfect solution for things like holiday decorations that you only need to access infrequently. For things you use more often, consider installing an overhead hoist pulley system. This is great for things like tools, sporting equipment and even kayaks.
Looking for more organization ideas? Check out these great tips from our pros: