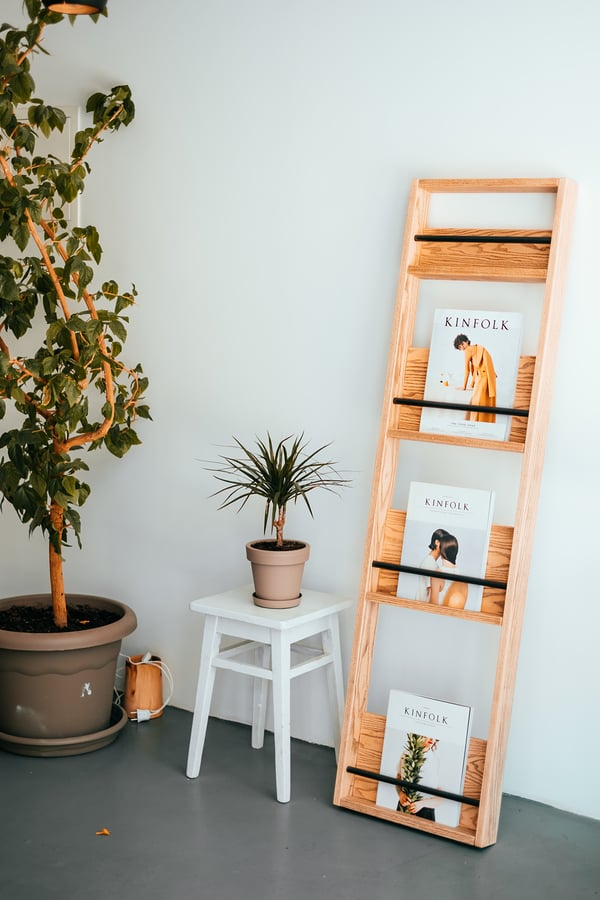 If you love to read, you know there's something special about holding a physical book or magazine in your hands rather than reading them on your phone or e-reader. However, it's also easy for your beloved collection to start making your home look and feel cluttered. With a bit of creativity, you can turn your books and magazines into an artful display that actually adds to your home's decor rather than detracting from it.
4 Creative Ways to Organize Your Clutter in an Aesthetically Pleasing Way
1. Upcycle a Shutter
Start with an old window shutter and remove every other slat. Then glue some thick pieces of cork to the back to create some space between the shutter and the wall. Finally, paint it and hang it up. This will allow you to place your magazines over the slats, creating a display that's equal parts furniture and art. A vintage washboard is another creative option that will give you a similar effect.
2. Find a Side Table with Storage
For living rooms, entryways and even bedrooms, a side table with storage keeps things neat and gives you an interesting way to display your reading material. Some have shelves built into the center while others create storage space along the sides.
3. Install Some Floating Shelves
If you have a lot of books, a set of floating shelves can create a focal point in your living room, dining room, home office, or study. These are basically a set of small shelves about the same size as book. Place the shelves along an open wall in any pattern that appeals to you. Then, stack books on top of the shelves. You can organize them by type, by author or use the colors of the book covers to create an interesting pattern.
4. Get Creative with Crates
Create a simple bookshelf that can grow with your needs by using stackable crates. You can often find them in a wide variety of styles and colors so it's easy to create a look that complements the rest of your interior decor. You can also disassemble crates and use the side boards to make shapes and patterns along a wall. Then creatively stack your books inside each makeshift "shelf." When done right, the results are often stunning.
Protect Your Belongings & Interior Decor
Did you know the sun's UV rays can damage your furniture, artwork and even your beloved books? Exterior shades from Polar Shades will filter out these damaging rays while ensuring that you have the perfect amount of reading light with no annoying glare. Contact us today at 702-260-6110 to schedule a free, in-home consultation.