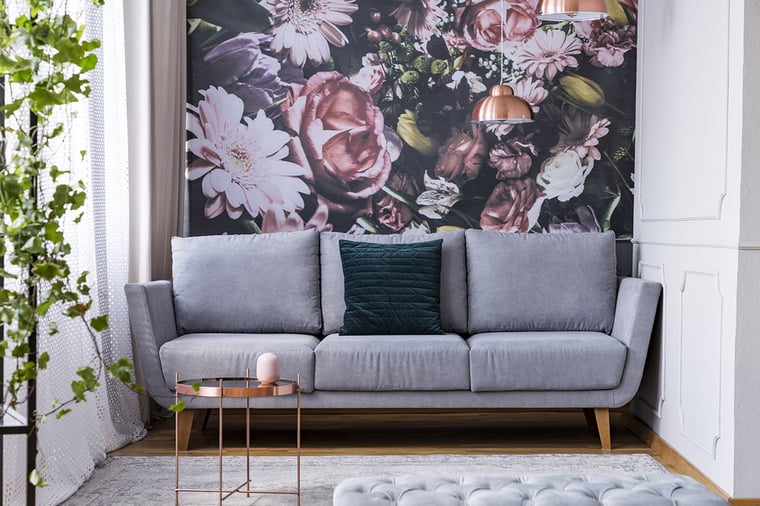 With almost the entire nation spending far more time at home than they're used to, many are re-assessing their home decor. Now is a great time to make some inexpensive updates!
Wallpaper is a quick and easy way to change the entire look and feel of a room without breaking the bank. While wallpaper may sound like an outdated idea, it is making a big comeback due its versatility. Here are a few of the hottest patterns that are trending among home decor experts this spring:
Geometric Shapes
Geometric shapes are also very hot right now. It's not easy to find a trend that's both playful and elegant, but this art-deco-inspired look manages to pull off both. Look for big, bold patterns on a white or light-colored background. They're making a major comeback and look great in small spaces like bathrooms.
Crocodile Skin
Feeling adventurous? Then crocodile-skin-patterned wallpaper might be exactly what you need. While it's made of 100 percent paper, it's saturated with latex to give it a look and feel that very closely resembles real crocodile skin. This looks amazing in a study or a "man cave."
Stitched Puzzle
Stitched puzzle paper will give you a fine leather look without the high cost. It's actually made of hand-dyed paper and polyester thread. There are many different colors available or you can have it custom dyed to perfectly match your decor.
Braided Hemp
Natural styles and textures are really in right now, and braided hemp paper is a great way to bring this look into any room in your home. This handmade paper requires special care, so it's best to have a professional hang it for you.
More Inspiration for Updating Your Home Décor
Adding some gorgeous wallpaper is just the first step! There are many more small changes you can make to give your home a spring update. Take a look at these recent tips from our pros: