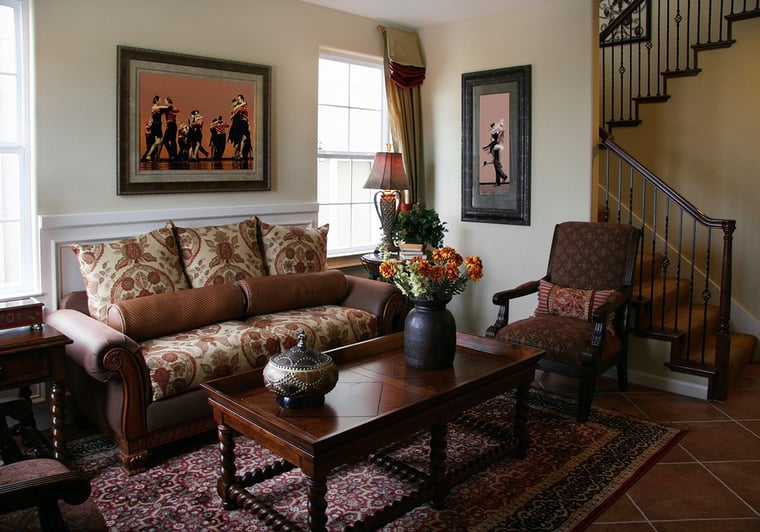 Interior walls offer ample opportunity to add color to a room, but they're hardly the only places where you can use paint to infuse an interior design with personality. Paint some of these items, and you'll give the rooms in your home some creative flair:
Match Kitchen Appliances
Like the look of stainless-steel but don't have the budget for all-new, stainless kitchen appliances? Old appliances can be given a makeover and you can make mismatched appliances look the same with water-based, stainless-steel paint. The paint is, essentially, stainless-steel in liquid form and dries to look just like the metal.
Give Carpeting a Custom Pattern
Have old carpets that are stained, or want to give your carpet a custom pattern? Carpets can be painted to match any decor – or to stand out as the centerpieces of a room. Low-pile carpets work best with this technique, as you don't have to get the paint down as far between the loops.
Create Custom Curtains
Like carpets, curtains can also be painted to create custom designs or refresh worn-out fabrics. In fact, curtains are often easier to paint than carpets because they don't have high piles like carpets do. You might want to start with these if you've never painted fabric before.
Freshen with Colored, Dried Flowers
Dried flowers are beloved by many, and they add lasting elegance to a room. You don't have to leave dried flowers their natural color, though. You can also paint them to create a striking appearance that can be customized for any room's color palette. In some cases, painting may even help preserve the dried flowers. Due to the petals' delicate nature and complex shape, spray painting is the best way to color dried flowers.
Color Code Spoon Handles
In the kitchen, handles of wooden spoons, spatulas and measuring cups can all be painted. This adds color to the kitchen, and it can help you quickly select the right utensil if you color code according to size.
Add Interior Window Shades
While not actually a painting project, interior window shades are great when you're sprucing up a room with color. The shades themselves can add color to a room as they come in more than the basic neutral tones. They come in a wide array of colors, ranging from cool to warm, and there's an option for any room's color scheme.
Additionally, interior shades provide sun protection by filtering out harmful UV rays. These rays cause premature fading of floors, furnishings and even artwork. With interior shades installed, your painting project will be protected from fading for a very long time.
If you need interior shades for one or more of your home's rooms, contact Polar Shades at 702-260-6110 to schedule a free, in-home consultation.