The public rooms in your home such as the kitchen or living room are all about family, and often end up being comprised of different styles which reflect a number of personalities. Your bedroom, however, is all about you. When it comes to decorating this private space, there are no hard and fast rules, and you're free to change the look anytime you desire. If you're ready to make a big impact in your bedroom with simple changes, we have you covered with our list of design trends sure to inspire you.
Popular Bedroom Design Trends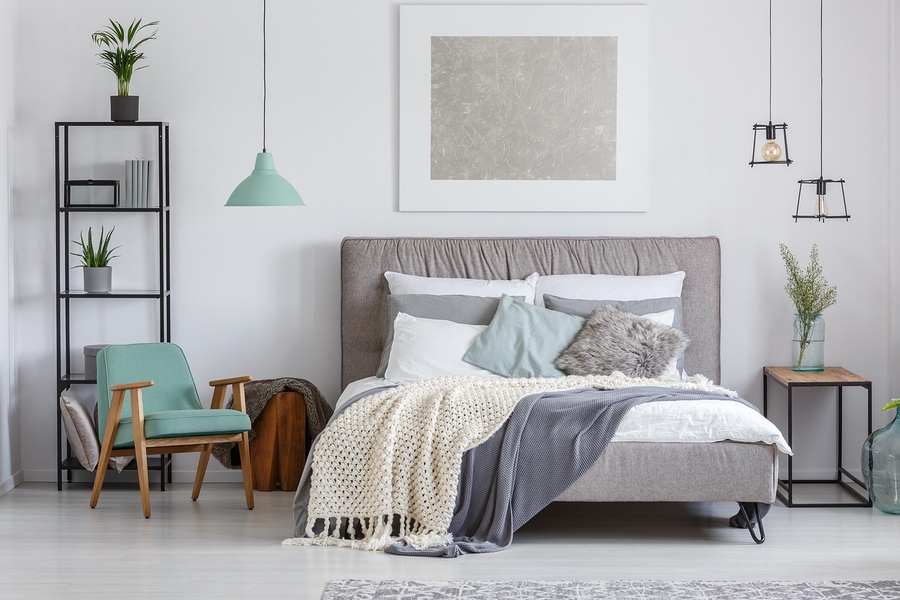 Pendant and Wall Lighting
This is a room where layered lighting works best, with different fixtures to suit a variety of tasks and moods. Pendant lights and wall sconces are a popular choice for hanging or affixing above night stands on either side of the bed. When installed at the right height, they are ideal for reading in bed or lighting a path in the middle of the night, while freeing up room on the nightstands for bottled water, books, or electronics.
Ultra Violet
Pantone's Color of the Year is ultra violet, and it can be found in bedrooms across the nation on walls, furniture, bed linens, floor coverings, and more. Add a splash of ultra violet for a fun pop of color, or to add depth and richness to your overall design.
Soft Edges
Fluffy pillows, overstuffed duvets and high mattresses add a sense of loftiness to the bedroom – and you can carry that theme throughout your decor with furniture and accessories that are rounded or curved, such as your headboard, mirrors and lighting.
Statement Pieces
Add an exquisite statement piece, such as a four-poster bed, bold work of art or stately ceiling fixture to give your room that "wow" factor.
Luxurious Fabrics
It's all about texture with fabrics, including cashmere, velvet, faux fur, mohair, suede, and more. Layer your bedding, pillows and throws on a cozy chair, or reupholster a bench or chaise in the colorful, textured fabric of your choice.
Window Shades
Interior shades are timeless additions to any bedroom decor. Choose from manual, motorized and duo shades in a variety of fabrics, colors and patterns to suit your unique style and provide the perfect combination of sun control and privacy.
Wallpaper
Wallpaper has gained recent popularity among designers and homeowners. With an infinite number of patterns, textures and colors to choose from, you're sure to find several options you love.
Green Living
Eco-friendly fabrics, flooring, paint and lighting help reduce your impact on the environment and support more sustainable living.
For more interior design tips and trends, read these blog posts: