No one can be expected to integrate every design trend into their home decor. It's a matter of choosing what appeals to you the most and which ones can best enhance your home. This is part of the fun of learning about trends, especially when you have so much time left in 2018 to put your own twist on each one.
Top Interior Design Trends of the Year
Move Over, Gray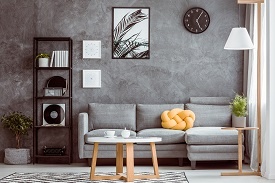 The Pantone Color Institute can always be counted on to get designers talking with its selection of the color of the year. For 2018, it's ultraviolet, a blue-based purple shade. Pantone relies on designers to extrapolate the selection and apply it in the broader context of the color wheel. In this case, the selection points to jewel tones, such as emerald green, amethyst and ruby red. However you choose to turn the wheel, color is in.
Wood Furniture Gets Darker
As interior colors get brighter, wood furniture is compensating by getting darker. Pale, bleached woods do not provide the right contrast with jewel tones. Additionally, dark woods signify glamour and luxury.
Baseboards Go Minimalist
Homeowners love crown molding, and this doesn't seem likely to change. Crown moldings add height to a room and exude grandeur. Instead of extending that heady look to the baseboards, the trim is becoming simple and streamlined. In fact, many designers are even recommending baseboards be painted the same color as the wall for an even more discrete look.
Textures Add Depth
It's a shame to relegate rattan and wicker to the outdoors. These textures can add eye-popping depth to the indoors, and not just on furniture but on lampshades, picture frames, mirrors and window treatments, too.
Fringe Means Fun
Fringing is a trend that is circling the perimeter of interior design. Fringe and tassels seem destined for pillows, blankets and window treatments, but fun fringe can also be looped around furniture knobs, closet doors and sconces for an element of surprise.
Fortunately, shades are one home amenity that never goes out of style. Choose from a variety of sizes, styles and fabrics to accentuate your home's design. Contact us at 702-260-6110 to schedule your free, in-home consultation.