When it comes to designing your space, you'll often need to sacrifice some elements to make room for others. Below, we're sharing ten elements designers add to their own kitchens, from the practical to the extravagant. Use the list to discover your own ideal kitchen features.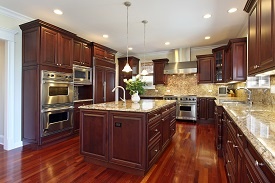 1. Custom Drawers
While many of us stick pots and pans in whatever empty cupboard we can find room in, designers agree dedicated space for these kitchen tools is ideal. Customized drawers provide space for organizing pots, pans, and lids, so you never have to dig for what you need.
2. Custom Cabinets Having cabinets custom made for your space will improve the design of your kitchen tremendously. Unlike pre-made cabinets, the custom option will be made to fit the unique dimensions and angles of your room for a richer look.
3. Pull-Out Shelves
After the cabinets are installed, they'll need to be organized. Pull-out shelves can do wonders for keeping everything in place, and you'll never lose smaller items in the back of a cupboard.
4. A Professional Level Range
If you love to cook for a crowd, upgrading to a pro-level cooking surface will do wonders for your ability to put a meal together.
5. Necessities Disguised as Built-Ins
The oven range is never the best part of a kitchen design. Hide it in plain sight by having your custom cabinetry continue around the range. The end result is a seamless design without sacrificing a necessary function of the kitchen.
6. Two-Drawer Dishwashers
There's no need to waste water by running a load of dirty dishes before the dishwasher is full. The two-drawer design allows for half-size loads and makes it easy to break up the task of doing dishes as the two drawers can run at different times.
7. Customized Sinks
Whatever your sink needs may be, there's a design to meet them. Choose an over-sized sink to make room for pots and pans, or add an adjustable faucet to easily fill pans with water.
8. Extra Workspace
If your dream kitchen is designed to create gourmet meals, you'll need the extra space for food prep. Designers suggest bringing in an island, installing pull-out cutting boards into drawer space, or incorporating movable prep surfaces that can easily be moved out of sight before guests arrive.
9. A Versatile Island
An island is great for increasing workspace and adding casual seating, but it can do much more. A luxury design element is a small fridge built into the island. Use it for beverages while party hosting.
10. Plenty of Natural Light
Kitchens should be inviting spaces. Letting in natural light will make your room feel warm and comfortable. Let the light shine in and showcase your kitchen design with the right windows, and more importantly, window shades.
To learn more kitchen design tips to help you create a unique, modern look, check out these blog posts: