Whether you're cooking for one or baking for a crowd, having an organized kitchen makes things easier. Both large design changes and small decorative additions can make your kitchen feel large, organized and efficient. Here are some tips you can easily incorporate into your kitchen design:
Space-Saving Tips for an Organized Kitchen
Maximize Your Island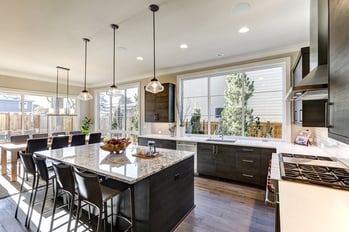 If your kitchen is large enough for an island, you can maximize it by choosing one with drawers to hide clutter. Additionally, an island with open shelving is perfect for stashing cookbooks, canisters and small items to keep your counter space clear.
Make Dual Use of Your Space
If your small kitchen needs to double as a dining area, choose a table at a height that will allow you to use the surface as prep space when cooking. Instead of dining chairs, opt for stools that can easily slide under the table after you eat. You'll save space and give the room a cleaner look.
Organize Drawers
It can be tempting to toss things into drawers, close them and forget about the mess inside until you need to dig for a spatula or lid. Use cabinet organizers to sort items so you can easily find things when you need them.
Fill the Room with Light
A bright room looks more spacious. By installing window shades, you can control the amount of light that enters your kitchen, while also maintaining your privacy. Choose from manual or motorized shades to allow for the best lighting possible.
Window shades also reduce glare and keep out damaging UV rays. To learn about the various fabric and design options available, contact us today at 877-260-6110.