The mood of your home is set from the time your guests walk in. As a result, the entryway plays an important role in determining how comfortable and inviting your entire home will be. Be selective in choosing an entryway color that not only fits the inside of your home, but also the immediate outside areas. Here are 5 color ideas you should consider when painting your home.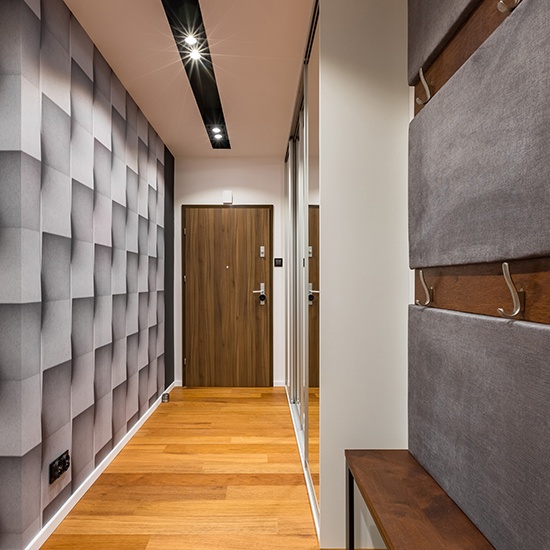 1.

Organic Green

Organic green is an excellent choice for almost any entryway. It has a light shade that allows natural light to bounce off the walls, yet, it's also dark enough to achieve a bold theme. This shade of green also has a refreshing color that makes your guests feel welcome as soon as they walk in.
2.

Light Grey

Light grey is an excellent choice for a neutral, earth tone color. This option is a bit more interesting than simply having white or off white on the entryway. Light grey matches well with multiple colors and many different types of furniture. Therefore, you don't have to stick with this shade of grey for the entire home. In fact, you have the option of dedicating the light grey color for entryways and blending it with other selections for your living room, kitchen, or dining area.
3.

Dark Red

Darker colors add a bold statement to your home. A dark red entryway adds personality, as well as drama. It also hides stains well, especially if your entryway undergoes heavy use. You can create a contrast between the outside areas of your home (by using a neutral color) and the inside walls (using a bold, dark red shade).
4.

Light Pink

If you're thinking outside the box, a soft beige pink (light pink) works well for entry spaces. Pink contrasts well with the green of outside vegetation. It's also a classy and sophisticated color that will radiate these qualities into your home. The light pink allows light to bounce off walls, and it blends easily with shades of brown, grey and black, among others.
5.

Orange

Orange is a bold color choice that radiates energy and comfort. If you have frequent guests, consider using orange to make them feel welcome whenever they walk in. Orange also has an upbeat and funky feel to it. Mix and match this bold choice with several neutrals to achieve a more consistent theme in your entryways.

For more ideas on interesting ways to add color to your home, read here: