Is your kitchen clean enough to eat off the floor? No one is likely to put that to the test, but this common saying reflects the importance of a clean kitchen, not only for good health but also a peaceful ambiance. Follow these tips to create a practical plan for maintaining a sparkling clean kitchen.
Countertop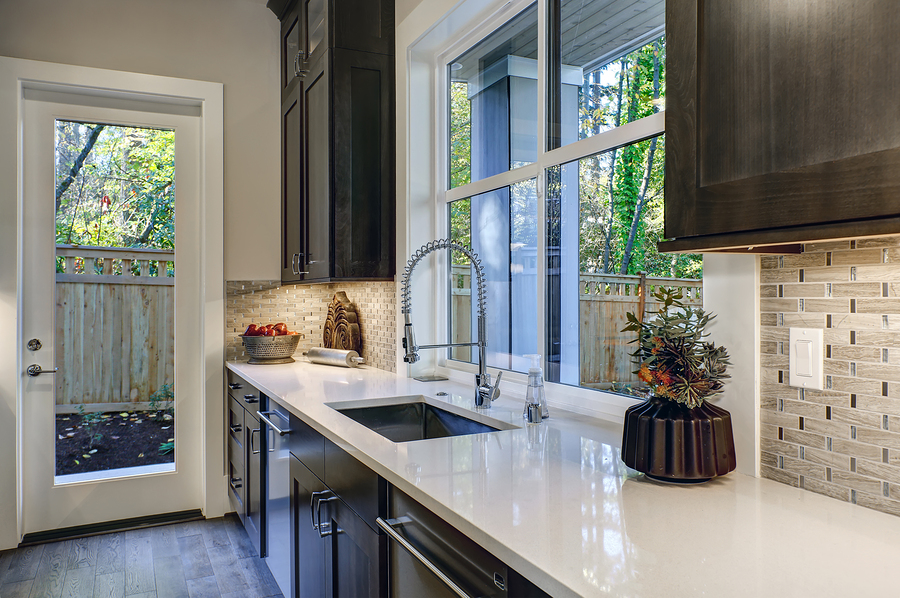 Kitchen counters are a convenient landing spot for irrelevant items such as mail, report cards and keys. Do a quick sweep and remove everything that doesn't belong. Identify common items that accumulate and designate a space just for them.

Countertops are made from a wide range of materials, from butcher block to marble and granite. Use the appropriate method for

cleaning your particular countertops

to avoid damage.
Refrigerator
The fridge is a convenient catch-all for leftovers that quickly become forgotten. Toss everything that's past the stage of consumption, then wipe down shelves with a solution of equal parts water and baking soda. The mild abrasiveness will remove any dried-on stains. Quick tip: label leftovers with dates so you can see at a glance which items need to go. Aim to empty the fridge at least once a week to avoid a stack-up of inedible meals.
Stove and Oven
This may be the most intimidating task, but the time spent is well worth it.
Place burners and trays in warm soapy water for 20 minutes. While they're soaking, fill a spray bottle with one part vinegar to two parts water and wipe down the stove top. (This vinegar solution makes a great all-purpose kitchen cleaner.)

Soak oven grates in soapy water, using a scouring pad to remove debris. Vacuum crumbs from the oven's interior and then wipe it down with a damp sponge.

Give the oven a deep cleaning once a quarter. If you'd rather not use a commercial cleaner, there are several options for

DIY natural oven cleaners

.
Dishwasher
Once again, vinegar is the secret weapon. Fill a dishwasher-safe mug two-thirds of the way with white vinegar. Place on the dishwasher's top rack and run the regular cycle to wash away soap scum, grease and food debris. Repeat every four to six weeks.
Sink

Warm soapy water is generally the standard for cleaning sinks. Use a toothbrush to get into crevices around the faucet. If your water has a high mineral content that leaves deposits, scrub with (you guessed it) one-part water and one part vinegar.

Sanitize the disposal by adding ice cubes made from vinegar and running the disposal as you pour hot water over it. This method also helps to keep the disposal's blades sharp.
Organizing
There's only so much space for cabinets. Take advantage of vertical space, such as the insides of cabinet doors and sides of appliances.

Old file organizers are a handy way to store pans, cookie sheets and muffin tins.

Multiply cabinet space with

tiered cabinet shelves

.

Line the tops of cabinets and appliances with boxes and baskets to increase both storage space and style.
Looking for more kitchen tips? Check out these posts: