A water leak or pipe burst can cause thousands of dollars of damage to your home and belongings. Taking a few precautionary measures can help you avoid problems down the road.
Tips to Avoid Water Damage in Your Home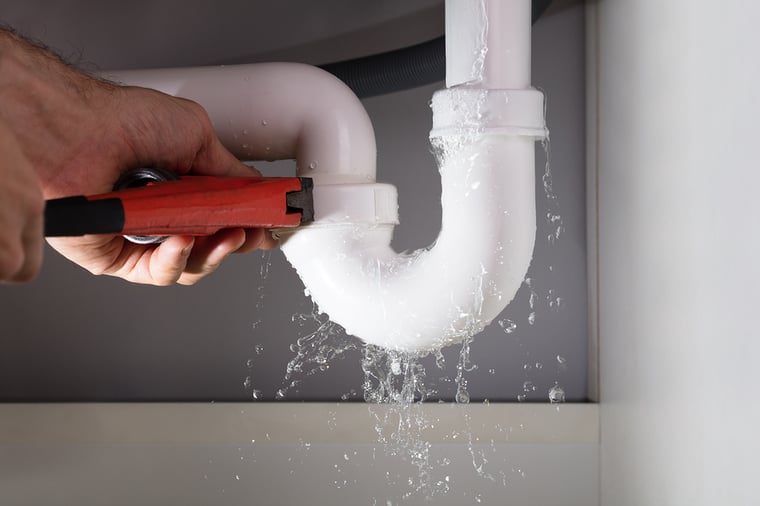 Regularly Check for Leaks
Even a slow leak can cause big problems. Make a habit of regularly checking all of your pipes and appliances that use water for leaks. Look around for any dark stains. Be sure to check around you water heater, as well as under your appliances, inside your cabinets and near any caulking. In addition to saving your home from further damage, repairing these micro-leaks can also help you save money on your water bill.
Turn Off the Water Before Traveling
If you are preparing to travel, the best thing to do is to turn off the water at your main water valve. This eliminates the chance of your pipes leaking or bursting while you are out of town. It is also a good idea to make sure the washing machine and dishwasher are not running while you aren't home, even if it's only for a few hours.
Smart Sensors
Smart water sensors are another way you can protect your home around the clock, even when you aren't there. There are a variety of leak detection and prevention devices out there. Some will alert you if a sudden increase in indoor humidity or water on the floor are detected. Others work by shutting off your supply line if a water pipe breaks.
Monitor the Humidity
The more water that is present, the higher the humidity. Typical indoor humidity levels usually range from 30% to 50%. Too much moisture can make your home more susceptible to mold and dry rot. This is a prominent concern in areas that are dark and enclosed, such as attics, closets or under-sink cabinets. The easiest way to check your home's humidity levels is by using a hygrometer.
Get more smart home maintenance tips by checking out these blog posts: