Well-placed lighting is one of the best ways to add ambiance to any space. String lights are an effective and inexpensive lighting option, but hanging them correctly requires tact. The following tips will help you string up your lights like a pro:
4 Tips to Perfectly Hang Your String Lights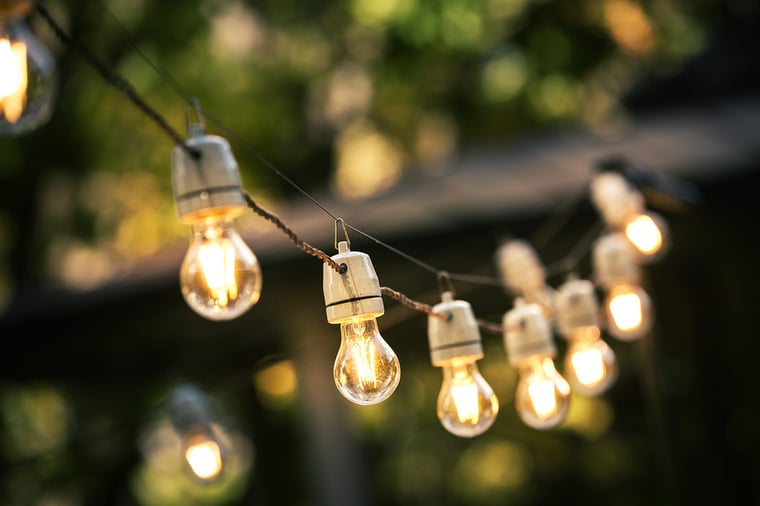 1. Evaluate Your Space
The first thing you'll want to do is decide where you're going to string up your lights. One thing you'll need to consider is whether you have either an outdoor electrical outlet or the ability to get a weatherproof extension cord into the desired area. Your next step is to decide on the general configuration you'll use and measure out your space. Use this information to get a rough idea of how many strings of lights you'll need.
2. Gather Your Materials and Purchase Your Lights
The basic materials you'll need for your project include:
A tape measurer

A ladder

A drill

A pencil or painters' tape

Metal hooks and eyes
Depending on where and how you'll string your lights, you might also need wire cutters, a string light suspension kit, wooden or metal posts, a hammer, cable ties, and nails or screws. You'll also need to purchase your lights. By choosing high-quality, commercial-grade string lights, the lights will be more durable and will last longer.
3. Scope Out Your Mounting Points
Lay out your lights in the configuration that you're planning and decide where you need to add mounting hardware. In many cases, your existing structures like the fence, roof, porch, pergola, or trees can serve as excellent mounting points. Use your pencil or painters' tape to place an X in each place where you'll add your mounting hooks. If you have to install posts or poles to complete your configuration, go ahead and do that.
4. Hang the Lights
You'll need to decide whether you are going to hang your lights with or without a wire suspension kit. If you're going to use the kit, set it up according to the package directions. If you're hanging the lights on their own, drill holes and screw hooks into each of your mounting points.
After your hooks or wires are installed, position the lights so that the first bulb is next to the closest mounting point. Then, hang them up according to your desired pattern. If you're using wire, clip the lights along the wire at various points as you string them up. When you're finished, plug in the lights.
By following these tips, you'll be able to achieve a beautiful aesthetic with your string lights. Want more tips on how to spruce up your outdoor living space for summer? Check out these blog posts: