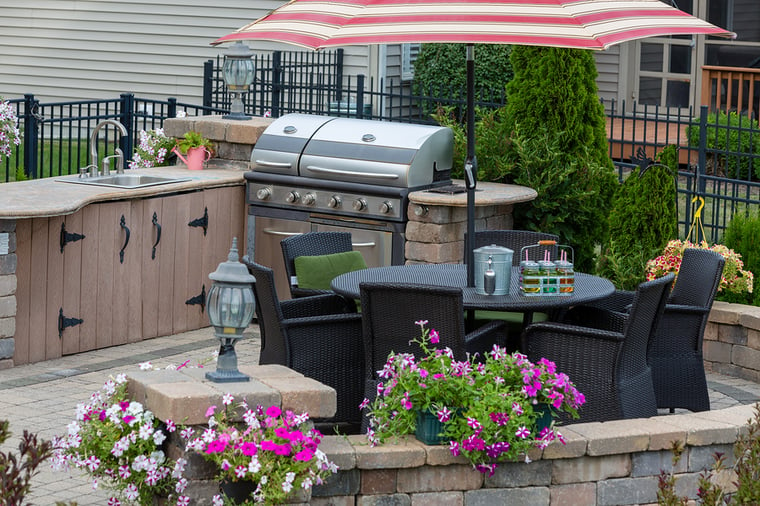 Not only will a well-designed outdoor kitchen improve your enjoyment of your exterior living space, it can also add significant value to your home. The following tips will help you create a fun and functional design that you're sure to enjoy for years to come:
1. Don't Skimp on the Storage
When designing your outdoor kitchen, it's important for the space to be as functional as possible. This means taking the time to carefully consider your layout and work in plenty of storage space. Consider adding extra shelving, cupboards and bench seats that open up to store items inside. Remember that the more you can store outdoors, the less you'll have to deal with running in and out of the house while you're trying to prepare a meal.
2. Plan for the Weather
Adding plenty of shade to your kitchen space will make it more comfortable to use during the summer months. You can easily achieve this by planting trees in strategic places, adding a retractable awning, or using patio umbrellas in your seating areas. To help keep you and others comfortable in the winter time, consider incorporating a fire pit or outdoor heaters into your kitchen design.
3. Choose Your Appliances with Care
Before you start construction on your outdoor kitchen, make sure you know exactly which appliances you plan to add. This will help ensure that everything fits correctly and that you've separated your cold and hot appliances. Some of the most popular outdoor kitchen appliances include grills and smokers, outdoor refrigerators and ice makers. It's far more difficult to add appliances after your kitchen is finished, so if you think you'll want additional features, like a brick pizza oven or induction burner, include them in your initial design.
4. Don't Forget About Lighting
Most homeowners enjoy using their outdoor kitchens in the evening and at nighttime, so proper lighting is another critical factor. You'll want to install lights that shine on your food prep and cooking surfaces, so you can easily see everything when preparing meals. Adding tiki torches and citronella candles can also help to set the mood while keeping away mosquitos.
5. Add Your Personal Style
Once you have your basic kitchen built, it's time to add finishing touches to your outdoor living space, like cushions, potted plants and other decorative pieces. This is your chance to give the space a finished look that truly reflects your personality and style. As you're selecting your decor, make sure it's appropriate for outdoor use. This will help ensure that it lasts and stays looking new for many years.
Are you looking for even more outdoor living inspiration? Check out these fun and informative articles: