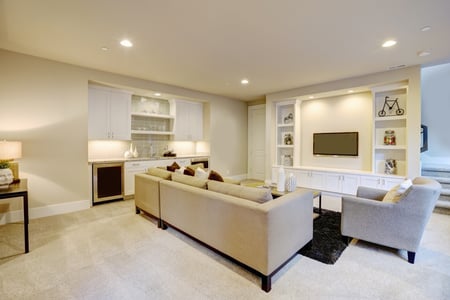 As television has grown in importance – adding internet capabilities, on-demand services and even more programming – the sizes of the device have grown, too. This can create a problem when it comes to decorating, as a large TV can distract from your design.
4 Ways to Keep Your TV from Becoming an Eyesore
1. Camouflage
Camouflage your television by mounting it onto, placing it in front of or embedding it into a dark wall. This will retain the cohesive look of your décor and keep the eye from getting distracted.
2. Go Low
Too often, people place televisions where they look best from a standing position. However, this tends to draw attention to the device. Positioning your TV at an angle that makes it easy to see while sitting down makes watching more enjoyable and it makes it less likely to become the room's focal point.
3. Frame It
A TV is less noticeable when framed by bookcases. Creating custom bookshelves to frame the television adds some style and depth to the room – and makes it easier to hide the television when it's not in use.
4. Get Artsy
Hide your television on a gallery wall. Don't be afraid to go big either. In fact, this technique works especially well if you add a couple paintings that are as big as, or bigger than, your television.
Get more creative interior design tips and trends with these blog posts: